Jumping Sideways (JumpSW)
1. Test objective
Determination of whole-body coordination under time pressure, as well as action speed.
2. Description of the task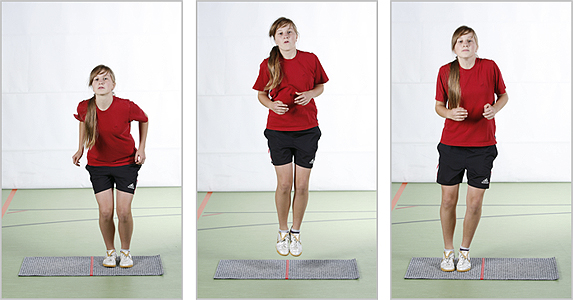 The object of this test is to jump back and forth sideways across the center line of a carpet mat with both legs at the same time as quickly as possible within 15 seconds. The center line is not to be touched or crossed. Five trial jumps will be allowed prior to the start of the test. The test person has two test attempts. There is a break of one minute between the test attempts.
3. Test materials
| | |
| --- | --- |
| 3.1 | Space requirements: 2 m2 |
| 3.2 | Time and personal requirements: 1 test leader can test 1 test person within 2 minutes |
| 3.3 | Equipment and materials: stopwatch, non-slip carpet mat (2 cm x 50 cm x 50 cm) with center line, double-sided tape or armor tape to attach the carpet mat. |
The carpet mat is attached to the hall floor with adhesive tape to prevent slipping. Care must be taken to ensure a safe distance from the wall and other objects. The place should be chosen so that the test person has a fixed point of orientation in the room and is not distracted by other test procedures.
5. Measurement recording
The number of jumps performed in two valid attempts, each lasting 15 seconds, is recorded. The average of both attempts is evaluated. There is a one-minute break between the test attempts.
Jumps in which the test person steps onto or off the center line are not counted. Jumps in which one of the side lines is crossed or jumps that are not performed with both legs are also not counted.
Standard values
Gender- and age-specific norms (N = 1472) are available from 1974 (Kiphard & Schilling) as well as from 2009 (Bös et al.).
6. Test instruction
In this test, you stand on the carpet mat next to the center line with your feet closed. At my signal, you start jumping back and forth sideways across the line as quickly as possible. You do this until I say "Stop!". When you step on the center line or next to the carpet mat, you do not stop, but keep jumping. Do not turn your body during the test, as you are only supposed to jump the line sideways.
7. Special notes
The exercise is performed with sports shoes.
Tape the jumping mat well, since heavier participants exert high forces on the mat.
Sources of error
The test person does not remain laterally aligned with the center line during the jump, but jumps over the line forwards and backwards.
There is no simultaneous jumping off with both legs, but only one leg is jumped off.
8. Sources
Bös, K., Schlenker, L., Büsch, D., Lämmle, L., Müller, H., Oberger, J., Seidel, I. & Tittlbach, S. (2009). Deutscher Motorik Test 6-18 (DMT 6-18). Hamburg: Czwalina.
Kiphard, E. J. & Schilling, F. (1974). Körperkoordinationstest für Kinder (KTK) (Testmanual von F. Schilling). Weinheim: Beltz.
Kiphard, E. J. & Schilling, F. (2007). Körperkoordinationstest für Kinder (KTK) (2. Aufl.). Göttingen: Beltz Test.