European Universities Championship of Golf with KIT Participation
European Universities Championship of Golf with KIT Participation
With the European Universities Championship of Golf a great week lies behind the KIT golfers. Two hours north of Paris, in Normandy, the tournament took place on a beautiful golf course.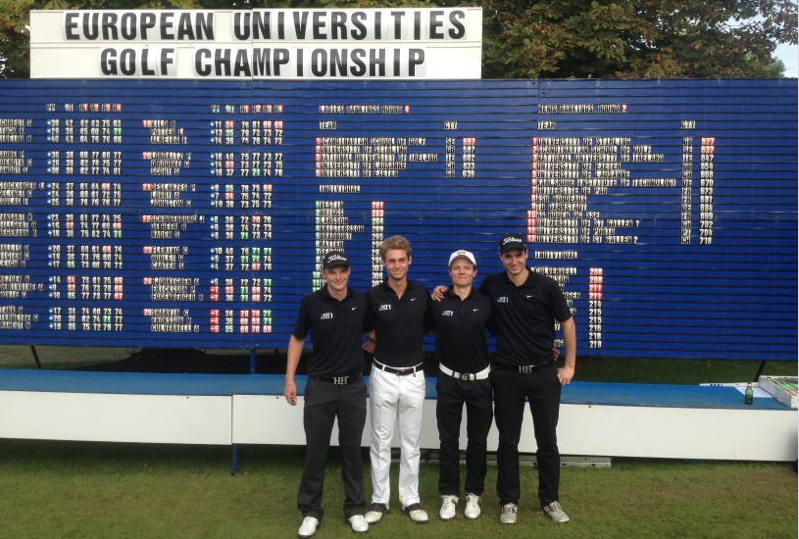 The course was partly very tricky and had a good mix with the also existing fair, easy holes. Only the bad weather and the many rains made the golfers to create and the course very muddy and thus partly not optimal playable. Thus there was already on the first tournament day a rain interruption of several hours.
The tournament itself was excellently organized and the golfers had the opportunity to meet many new people and make contacts. The smooth running of the events is worth mentioning. Starting with the "Welcome Ceremony", where each team entered with national flag and shield of the university, up to the gala evening with closing ceremony and award ceremony. The constant shuttle service between the accommodation and the golf course ensured short distances. At least two students from the host university were always present at the course to retrieve lost balls and to show the participants the exact location of the balls.

The guys are only partially satisfied with the achieved result: KIT reached the sixth place out of a total of 13.
In the singles, there was at least one top 10 place as well as another 12th place for our team, which is a good performance considering the partly very high-caliber field of participants.
Per tournament day and round, the three best results per team were evaluated (with a maximum of 5 participants). However, since the KIT golfers started with only four players, this was already a small disadvantage for the fan city before the start of the tournament. With optimal form, 4th place would have been possible.
It remains to be said that golf enjoys a different status at universities such as in Great Britain or Sweden. Teams like these traveled partially with four responsible persons and two coaches. This is not the only reason why the sixth place achieved is more than respectable.

All in all, the KIT golfers had a great week: excellent organization, great conditions and a lot of fun with a great team.
Florian, Lukas, Sven and Julian: "Finally, we as a team would like to thank you once again for the opportunity to represent Germany and KIT at this event and will do everything we can next year to be back at the next EUC Golf 2015."