DHM athletics: Carolin Walter wins the 800m race
DHM athletics: Carolin Walter wins the 800m race
On February 5, the German University Championships in Athletics took place in Frankfurt. KIT provided the largest team, which, however, was somewhat weakened due to illness.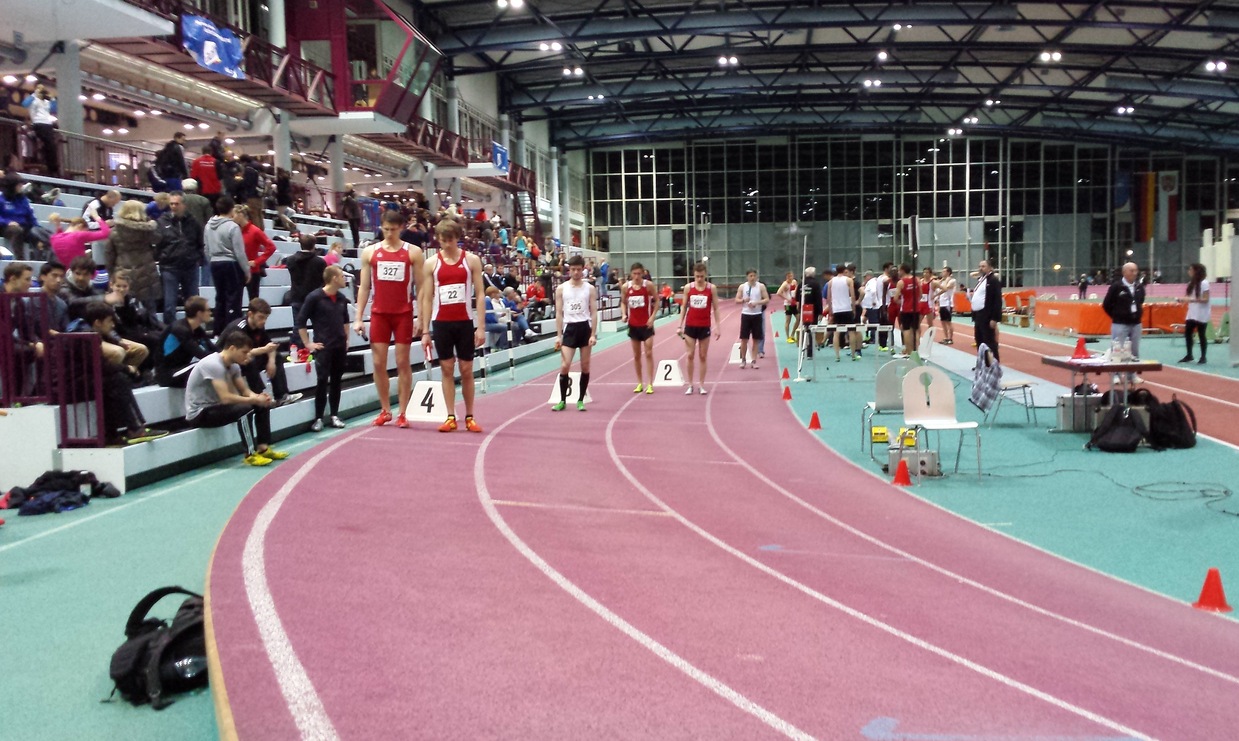 But although the team was weakened a good team performance with many top 5 placements could be achieved.

Carolin Walter started as the clear favorite in the women's 800m. The 2012 World Indoor Championships participant dominated her first race of the season from the start and won in a clear 2:09.26 minutes. Sarah Hettich, who is currently in strong form, was unfortunately disqualified.

The still very young long jumpers Kevin Nwoha and Anton Epp also presented themselves strongly. Kevin could win the bronze rank with 7,08m. Anton's 6.97m was enough for 5th place.
KIT presented itself in almost all running disciplines. With four personal best times, the men's 800m race was another success story. Despite double load, the 1st relay team in the line-up: Jens Becker, Kevin Nwoha, Holger Körner and Max Schmid could reach the 5th place. Only a few tenths of a second were missing to the podium.
KIT team results at a glance:
| | | | | |
| --- | --- | --- | --- | --- |
| Pl. | Athlete (name, first name) | Discipline | Performance data / Result | Remark |
| 4. | Stadelbacher Judith | 400m | 57,28 s | PH Karlsruhe |
| 1. | Walter Carolin | 800m | 2:09,26 min | DHM Champion |
| | Hettich Sarah | 800m | Disq | Line crossing |
| 35. | Aeschlimann Sven | 60m | 7,51s | |
| 36. | Löffler Hannes | 60m | 7,54s | |
| 28. | Spoonbill Hannes | 200m | 24,55s | |
| 32. | Judge Sebastian | 200m | 25,55s | |
| 9. | Burkart Manuel | 400m | 52,00s | |
| 10. | Pentecost Marvin | 400m | 52,73s | HS Karlsruhe |
| 10. | Körner Holger | 800m | 1:54,65s | Personal best |
| 12. | Schmid Max | 800m | 1:54,91s | PB |
| 13. | Kessler Christoph | 800m | 1:56,41 | PB |
| 16. | Becker Jens | 800m | 1:58,19 | PB |
| - | Garcia Fernandez Pedro | 60m Hike | 7,87 | VL won without final run! |
| 5. | Becker, Nwoha, Körner, Schmid | Relay 1 | 3:38,05 | |
| 11. | Kallenberger, Schmidt, Burghardt, Richter | Relay 2 | 4:06,53 | |
| 3. | Nwoha Kevin | Long jump | 7,08 | |
| 5. | Epp Anton | Long jump | 6,97m | |