DHM table tennis with strong field of participants
DHM table tennis with strong field of participants
From June 12 to 15, the German University Table Tennis Championships took place in Hamburg. The top-organized tournament became a great challenge for the KIT players.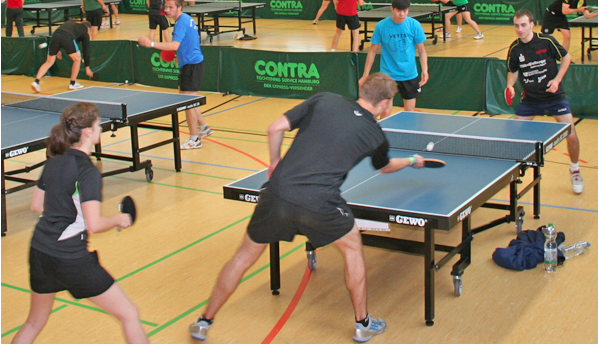 After the team unfortunately could not qualify for the semifinals of the team competition on June 12, the seven participants of KIT (Steven Yan, Patrick Urbanek, Carolin Reisig, Julian Deschner, Johannes Röderer, Christoph Füllner and Julian Jirasek) only entered the action on Saturday. The tournament day started with the mixed competition, in which the KIT pairs Carolin Reisig/Patrik Urbanek, Johannes Röderer/Julia Röderer(WG Freiburg) and Steven Yan/Celine Gruber(WG Ulm) started. After a very good start and a clear victory in round one, Reisig/Urbanek had to admit defeat to a much higher playing pair. The same happened to Yan/Gruber, who already met the later finalists in the second round, but had to admit defeat after a great performance only with 9:11 in the deciding set. Röderer/Röderer also had to bow out of the mixed competition early on after a hard fight.

The next competition on the schedule was the singles. While Johannes Röderer, Christoph Füllner, Patrick Urbanek and Carolin Reisig survived the group phase by excellent performances and thus reached the knockout round, the other KIT players had to admit defeat to their partly overpowering group opponents. In the knockout round, especially Christoph Füllner and Carolin Reisig have to be mentioned, who reached the round of the last 32 and 16, respectively, due to their excellent performances. Here, however, the competition, which is partly active in the 2nd Bundesliga, was too strong. In the doubles competition Christoph Füllner/ Konstantin Kriese (HS Berlin), Steven Yan/Mathias Grothkopp (FH Kiel) and Carolin Reisig/?? were able to advance to the second round, while the doubles pairings Julian Deschner/Julian Jirasek had to admit defeat to the later finalists already in the first round and Johannes Röderer/Patrick Urbanek were also defeated by their opponents.

During the whole weekend, the tournament management consisting of the Hochschulsport Hamburg as well as the discipline chief of the ADH Oliver Jetter had the tournament well under control. There were no longer breaks at any time and it was even possible to get ahead of the scheduled schedule. Likewise for the physical well-being of the participants was provided in the best way. Be it the rich breakfast or the "Pasta-Party" on Saturday evening in the center court of the prestigious facility at the Rothenbaum.
In conclusion, it can be said that the KIT players presented themselves very motivated. However, the field of participants, which included many top players from the top four leagues, was a bit too strong to be able to celebrate major successes.

German University Champions 2014 at a glance:

Men: Björn Baum
Ladies: Yvonne Kaiser
Men's doubles: Baum/ Müller
Ladies doubles: Do Thi/ Renner
Mixed: Adams/ Forsch