DHM Karate with successful KIT starters
Two starters of KIT Hochschulsport were successful at this year's German Karate University Championships. Wilhelm Schulz was able to achieve a second place in his Kumite category even without any previous external competition experience.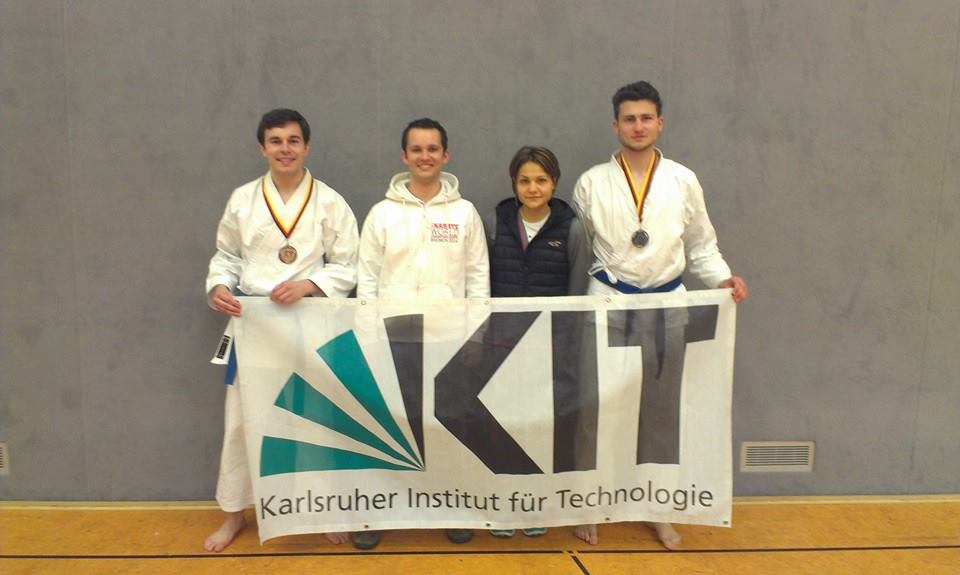 The competitors drove together Friday morning from Karlsruhe with a car rented from Carsharing to Halle and checked into Hostel No. 5 near the competition venue in the early evening.
On Saturday morning first the preliminary decisions in the Katas (choeographed technique sequence which are evaluated after aesthetics, strength and total impression) took place, for the belt degrees up to the 3rd Kyu also the finals. Thomas Deppisch was able to assert himself well in a pool of seven competitors and qualified for the fight for third place, which he finally won. Christopher Mack competed in the very demanding category of kata from 2nd Kyu against eleven other participants and unfortunately could not achieve a placement.
At the same time, the women's katas took place in parallel on the second mat, where Larissa Mackert unfortunately did not make it for a place on the podium.
Thereupon, strictly timed, the Kumite fights (two competitors compete against each other and are evaluated on the basis of a point system for their successful techniques) began. These are additionally divided into weight categories for the sake of fairness. In these, Wilhelm Schulz was able to secure a place in the final in a pool of seven competitors. Unfortunately, he lost the final, but nevertheless achieved an excellent second place in his first external competition.

Of course, the successes were duly celebrated and all competitors returned unharmed from Saxony on Sunday.