KIT Floorball Team wins title in Heidelberg
On Friday 08.05.2015 the university team from Karlsruhe won the championship of the general German university sports association in Mannheim.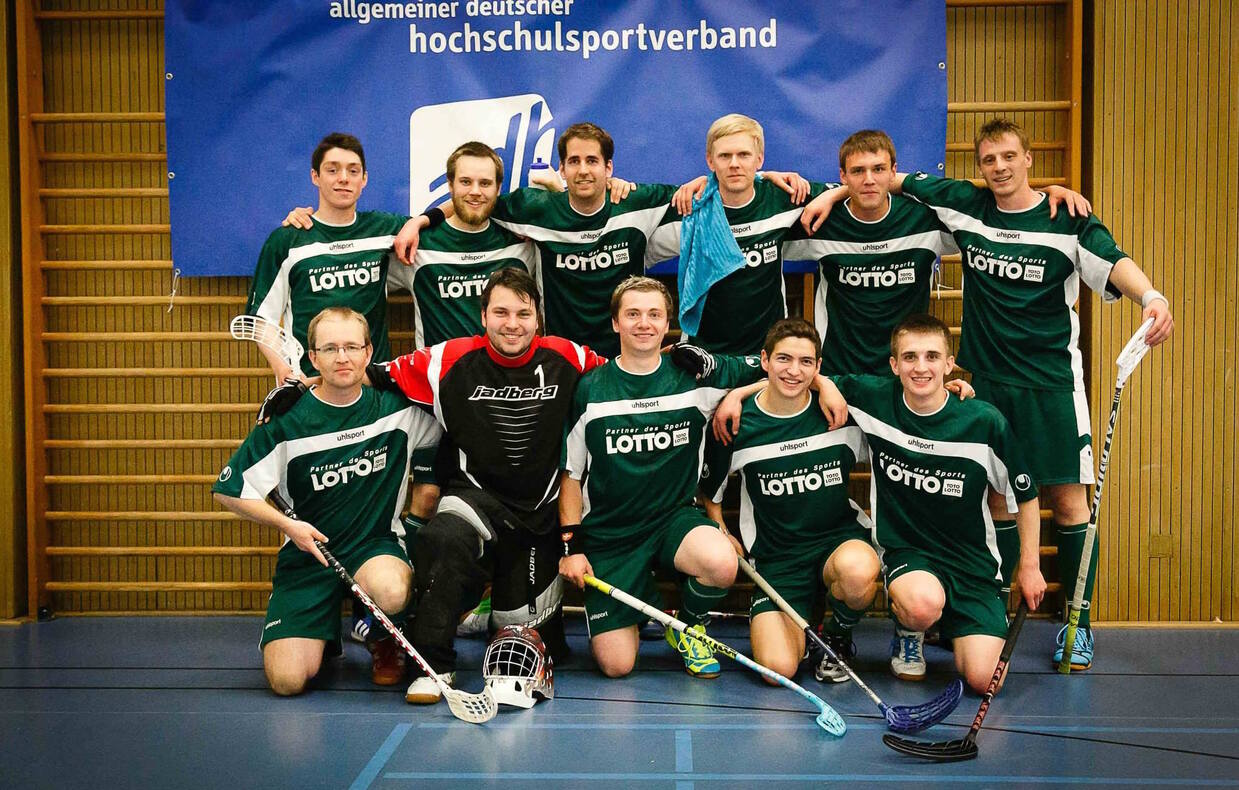 In the opening game, they were able to prevail against familiar faces and co-hosts from Heidelberg with a clear 5:1 victory. The Karlsruhe team also won the second group match against Würzburg solidly. With an excellent passing game and consistent defensive work, they were able to beat Würzburg by 4 points without conceding a goal.
However, there were also signs of a frontrunner in Group B: Kassel went into the semifinals against Würzburg as the clear group winner, while Karlsruhe now had to beat Munich. They also managed to win against the Bavarians, at least with a 3 goal difference (4:1).
In the final, the team from Karlsruhe now faced Kassel. Everyone expected an exciting game, but after a few minutes it became clear that Kassel had also met its match in Karlsruhe. Although they were the only team in this tournament to score two goals against Karlsruhe goalkeeper Patrick Stahl, they conceded 5 goals from Karlsruhe's strong offense, which worked brilliantly throughout the tournament. The first line around Mikko Merilä, Alexander Burmeister and Florian Knopf played the opponents dizzy with dream passes and breathtaking stickhandling, the second with Miska Koskelo, Timo Kirste and Birger Thomsen played energy-loaded with much train to the goal and excellent defensive work and also the third row with Konstantin Zacharis (which played in October for the first time Floorball and by great achievements as large talent turned out), Marco Merboldt, Jan-Hendrick Kuessner and Erik Strandberg offered Paroli to the opponent Topreihen and provided for constant goal danger. It was no surprise that the title of top scorer went to three players from Karlsruhe: Alexander Burmeister, Mikko Merilä and Florian Knopf scored 4 goals each. And also the prize of the top scorer (goals+assists) went to Alexander Burmeister, who generously shared his trophy (a pack of gummy bears) with the whole team.
Also in the fun tournament the following day, despite little sleep, which fell victim to a long championship celebration, the Karlsruhe team was able to show once again that they deserved to win the adh: Without even a defeat, they ended the successful weekend with another final victory against Kassel in the fun tournament and made their way home to Karlsruhe satisfied.