KIT Badminton Team More Successful Than Ever
Lucas Bednorsch becomes double German University Champion in singles and mixed, he also wins silver in men's doubles and Franziska Willenbacher bronze in women's doubles at the DHM Badminton from 04.06. to 07.06.2015 in Aachen.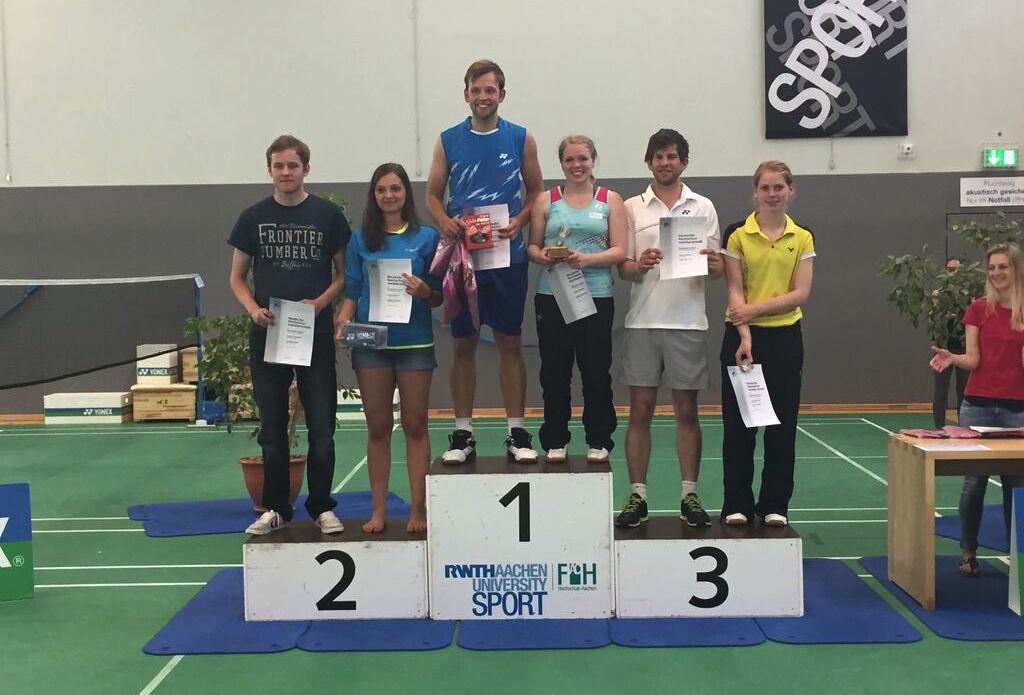 On Thursday they started with the Final Four of the team competition. WG Karlsruhe had qualified for this. Unfortunately, they had to give way to the later team champion Uni Duisburg-Essen in the semifinals. In the small final they lost to WG Saarbrücken 3:2 and just missed the podium.
In the individual tournament, everyone wanted to go one better. Especially Lucas Bednorsch succeeded. In the singles he started from the first seed and was determined to confirm this. He played his way into the final. There he faced Peter Lang from the University of Frankfurt. In a high class match Lucas won the third set 21:18, after he was already 13:18 behind.
The title in the mixed with Conny Paulsen from WG Hamburg was not necessarily expected. But the two improved from game to game and deservedly won the final with 21:19 and 21:15.
And also in the men's doubles L. Bednorsch made it to the final alongside Niklas König (WG Hamburg). Unfortunately, the two had to admit defeat to Lang/Rotter (Uni/FH Frankfurt a.M.) after great rallies in the third set. Franziska Willenbacher also made it onto the podium in the women's doubles. Together with Johanna Reinhardt (Uni Regensburg) they only lost in the semifinals to the later winners and current national players Efler/Volkmann.
But also the other participants performed well, almost all of them made it through the qualifying rounds and some of them even made it to the top 10!
Dorothee Schumacher, Franziska Willenbacher, Lucas Bednorsch, Vitus Lohmann, Lukas Förschner, Marcus Bayer, Christoph Lechner, Sebastian Kilgen, Martin Bugla and Carsten Zimdars competed for KIT Karlsruhe. With two titles, one second, one third and one fourth place, the KIT badminton team was more successful than ever before at a DHM.
The whole Karlsruhe team would like to thank the University of Aachen for the great event, which was a lot of fun for everybody.