KIT Volleyball Teams as Guests in Zagreb
For this year's EuroZagreb Mladost Open, two women's and one men's volleyball team of KIT went to Zagreb to compete with international opponents. The tournament took place from June 11 to 14, 2015 at the Bojan Stranic Sports Hall.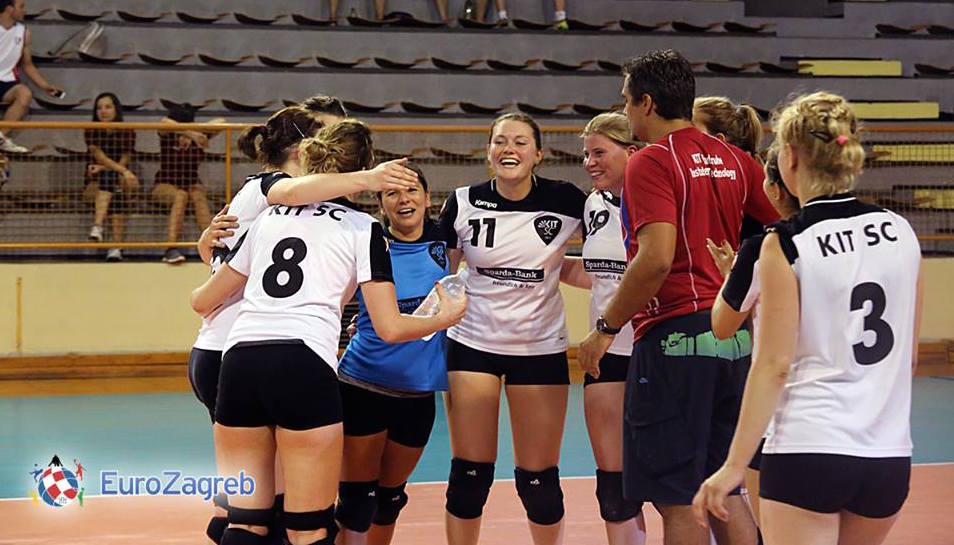 In addition to a high-class and attractive volleyball tournament, great supporting programs were also provided around the tournament.
The two women's teams played in groups against teams from Athens and two each from Paris and Zagreb. Despite the very high level of the other teams, the KIT teams were able to keep up well. KIT 1 made it through the group stage and entered the semifinals. KIT 2 was eliminated as 3rd in the group just behind Athens. The semifinal match, as well as the match for 3rd place, KIT 1 team unfortunately could not win despite loud support from Karlsruhe.

The Karlsruhe men's team played in the league system against opponents from Lebanon and two teams each from Paris and Zagreb. The men were able to win some matches, so that they could be happy about a good third place at the closing ceremony.

The beauty of this international tournament was not only the exciting and hard-fought games, but also the friendships that were formed on the field, in the hall and in the evening at the parties. Especially with the French a good friendship has developed, so that before the next season in September a preparation game in Paris is planned. The common battle cry has already been rehearsed: "Kaaaarlsruheeeee - Ici, ici, ici c'est Paris!"