Karlsruhe can not defend Ultimate title
From the 19th to the 21st of June the German University Championships Ultimate Frisbee were held, where the 32 best teams from Germany met in Chemnitz in mixed weather conditions.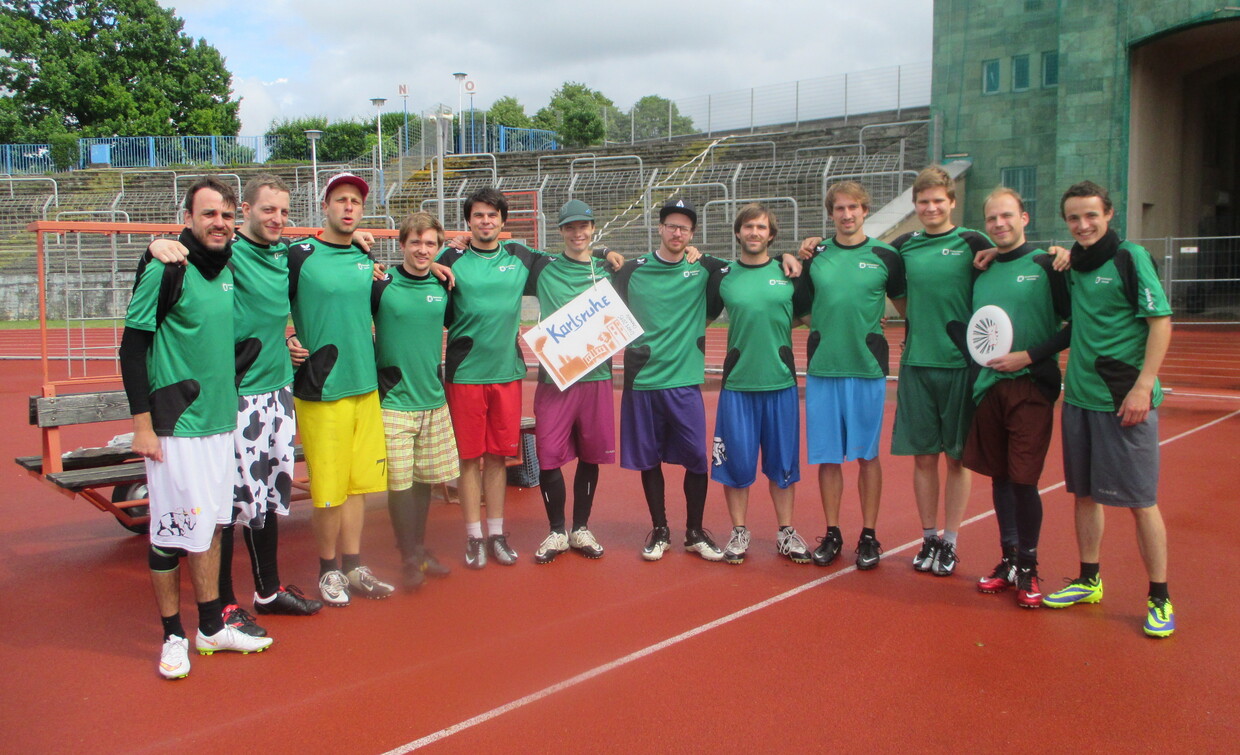 On Saturday morning, the first group phase of the tournament was played out to determine the best 16 teams. With 8 pools of four, four teams each faced each other in a round robin system of play. The changing weather made the games particularly interesting, as the teams were constantly confronted with rain, wind and sun in between. With two clear wins against WG Münster and Uni Bamberg, and one loss against a strong TU Dresden, WG Karlsruhe made it into the Top16.
In the afternoon, the best 8 teams were determined in the same format. In their intermediate pool, the Karlsruhe team first played two hot matches at eye level with HU Berlin and the University of Marburg, with the WG winning the match against Berlin. The match against Marburg was unfortunately lost by a narrow margin. With a commanding victory against the University of Frankfurt in the last match of the day, the Karlsruhe team secured their place in the quarter finals.
Karlsruhe fails against Dresden
On Sunday morning, Karlsruhe met their group opponents Dresden again. And again, due to the windy weather, they put up a very impressive zone defense. With a lot of patience and skill, Karlsruhe managed to score point after point and put Dresden under pressure with a physically strong man defense. Towards the end of the game, however, Dresden kept the upper hand and managed to win the hard-fought game. The title defense was therefore no longer possible for the WG Karlsruhe.
The next match was against WG Magdeburg. Here, too, the two teams played an even, fair and tough game. Unfortunately, WG Karlsruhe could not make up for a break from the early stages of the match and thus lost narrowly in the end.
In the placement match, Karlsruhe was able to show once again against WG Aachen why they deserve to be at the top. The match was clearly decided in favor of WG Karlsruhe by an extremely good defense and an equally calm and concentrated offense. Thus, they secured the seventh place at the German University Championships 2015.
After a spectacular final, the WG Würzburg deservedly won the title in the Universepoint against Dresden. Congratulations from Karlsruhe go to Würzburg! The Karlsruhe team is already looking forward to the next DHM with exciting duels.