Vice university champion in triathlon
Vice university champion in triathlon
At this year's German University Triathlon Championships on August 2 in Tübingen, the KIT team took 2nd place.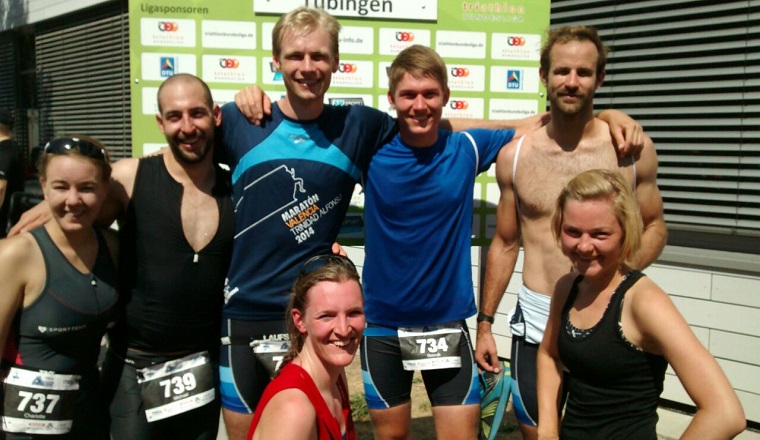 With high expectations, the 11 KIT endurance triathletes traveled to the German University Championships over the sprint distance (750m swimming / 20 km cycling / 5 km running) in Tübingen. Thereby KIT brought with eleven athletes, from triathlon debutants to Bundesliga athletes, a team with mass and class to the start. After the runner-up series of the past years, the well-staffed men's team expected good chances to bring the title to Karlsruhe, especially in the team ranking of the three fastest athletes.
Strong competition at the DHM
In optimal triathlon conditions, the mass start of the 750m swim in the Neckar took place on Sunday morning in the heart of Tübingen. In the mixture of the Neckar, which is quite narrow in the city area, assertiveness was required. Hannes Müller succeeded particularly well, as he was the 8th of more than 100 athletes in the men's field to switch to the bike. Already in the swim it became apparent that a number of strong athletes had been attracted by the DHM in the scenery of the student city. The rest of the Karlsruhe athletes found themselves just behind the top 20 on the bike during the swim.
Despite what many athletes saw as unfair conditions in the cycling, with the slipstream ban not being consistently enforced in many places, the strong cyclists Strauß and Kränkl were able to make up quite a few places. A total of five runners from Karlsruhe were in a good starting position for a top 10 finish before the run. On the challenging run course through the old town, Bausch, Kränkl and Müller in particular kept this promise and ultimately finished in 5th, 7th and 9th place. That should be enough for 1st place in the team classification, one would think. However, they had to admit defeat to the team from RWTH Aachen (3rd, 4th and 14th place) in a very close decision, with a clear gap to the third-placed team around the day's individual winner from Münster. In the end, only one place digit or 4 seconds were missing for the victory.
The women were all able to place among the TOP 30 with solid performances. In the end, the team finished fifth.
What remains is the memory of an exciting, atmospheric competition and an excellently organized German University Championship 2015 by the organizers from the University of Tübingen.