KIT Fistballers Successful at adh-Open
KIT Fistballers Successful at adh-Open
At this year's adh-Open fistball in Leipzig, the KIT athletes were able to bring the title to Karlsruhe again after 2013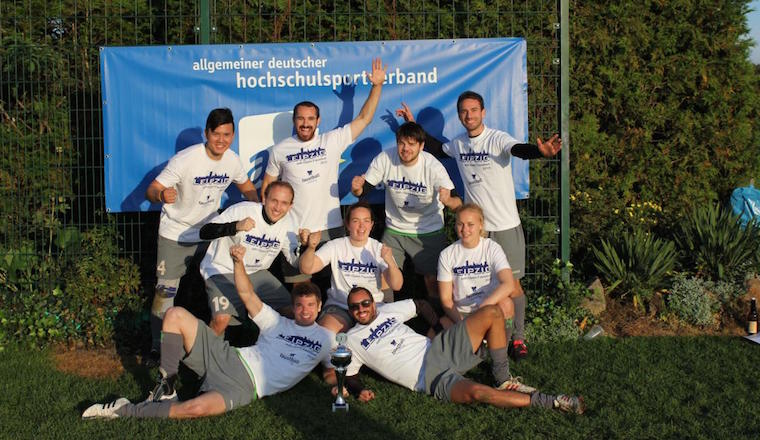 The KIT university team was represented by two teams, one each in the "Men" and "Mixed" divisions. After a guided tour of the city on Friday evening, play started early Saturday morning on still very wet turf. The KIT men's team found its way well into the first matches. With promising performances, the first matches were won and it was clear that there is more to come for the team around the Braun brothers. A little later, the mixed team also started playing. With a draw against Bonn-Männer and a win against Bochum-Mixed, the potential for the team led by the Vaihingen Bundesliga players Lochmahr and Fröhlich could be guessed here as well. After the lunch break, the action continued, with both the men's and mixed teams losing to the Leipzig men's and mixed teams in very closely contested matches.
The remaining matches against Bochum, Jena and Bonn were won by the KIT teams. Especially the non-active players played a lot, showed good performances and outgrew themselves. Even the injury of the top performer Kirchenbauer could not throw the team out of its stride.
Thanks to the better ball ratio, at the end of the day the men from Karlsruhe were able to bring the cup back home to the fan city after 2013. The mixed team achieved, as in the previous year at the adh-Open "at home", an excellent second place. Also in the overall standings, when the two divisions were combined, the Karlsruhe team showed their class with a second (Mixed) and fourth (Men) place. As in previous years, the atmosphere and environment of the championship was outstanding over the entire weekend and the fringe sport once again showed its best side.
The players were: M. Waterstraat, N. Kirchenbauer, M. Heimann, N. Lochmahr, M. Fröhlich, K. Braun, T.Braun, A. Sivongsa, M. Hufnagel