KIT fencers win silver in university ranking
Autor:

Bap

Datum:

02.12.2015
KIT fencers win silver in university ranking
On November 21 and 22, 2015, Johannes Gutenberg Cup organized by the University of Mainz took place, where KIT fencers convinced.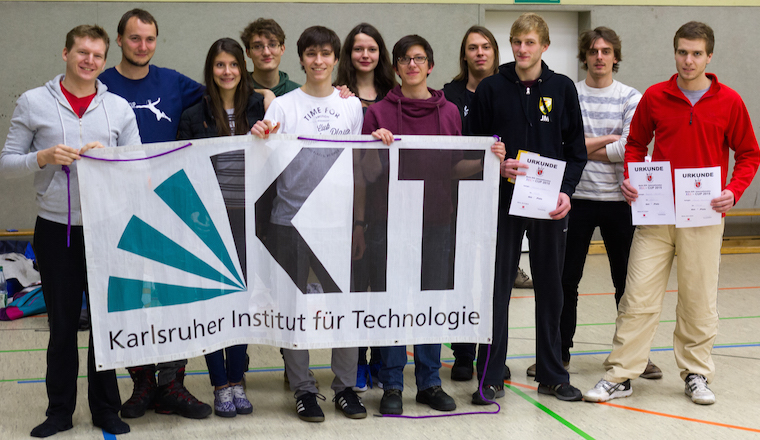 The successful participation of the Hochschulsport Karlsruhe in this year's JoGu Cup was directly confirmed by the large number of participants. A total of 17 fencers made their way to Mainz on Friday evening. KIT was thus represented in all three disciplines.
Compared to other tournaments, the JoGu Cup has the special feature that it is a 'mixed' tournament, i.e. both women and men fence together in all weapons.
On Saturday, the first day of competition, the decisions in epee and sabre were at stake. In a starting field of 84 fencers in epee, Karlsruhe University Sports was represented by twelve fencers. The probability that two KIT fencers would face each other during the competition was therefore high. This happened directly in the 32nd KO, where Fabian Lansche and Manuel Baptista met. Lansche did not let himself be distracted from his goal and continued his winning streak that day. Baptista still managed to gain some positions in the hope race, although the epee is not his learned weapon at all, and ended on the 8th place.
Lansche in top form
Lansche was in top form and unstoppable. He had to admit defeat only in the final against De La Fontaine from France, but thus guaranteed the first medal for KIT.
Parallel to the epee, the sabre competition took place, in which the Karlsruhe University Sports Team started with two fencers out of a starting field of 25 fencers in total. After strong fights in the preliminary round for Andreas Frölich as well as for Erich Bretnütz, Bretnütz had to admit defeat in the 16-man knockout and finished 15th. Andreas Fröhlich confirmed his currently very good form and remained undefeated until the semi-finals. At this point he unfortunately lost very narrowly and ended with an excellent 3rd place.
Strong competition in foil
After the traditional fencing fete on Saturday evening, where everyone had fun, the next day's program was foil. Eight fencers from the University of Karlsruhe competed in the strong field of 61 fencers, including fencers from France and the Netherlands.
In the 16-man knockout two fencers from Karlsruhe had to fence against each other. This time Johannes Müller against Alexander Kraus. Müller had to admit defeat to his team mate after a very exciting bout in which it was obvious that both already know each other very well from training.
Müller's dissatisfaction was clearly visible after this match and he fought his way into the quarter finals in the hope run. At this point Müller met last year's winner Leonard Kötzel (Uni Konstanz). In a strong battle, Müller had to admit defeat by one hit and ended up in 5th place, while Kraus ended up in 11th place. Baptista also made it to the quarterfinals, where he was defeated by the French Olympian from Beijing 2008 and later tournament winner Virginie Ujlaky. Baptista thus finished in 8th place.
Summing up, Johannes Müller, head of fencing, said at the end: "I am satisfied with the final results overall. The podium finishes in sabre and epee reflected the high level we have in Karlsruhe. In foil we can be quite satisfied in view of the strong starting field, but our goal there was also to achieve a podium place, which unfortunately we did not succeed.Either way, the university ranking also goes to Paris just as deservedly as the second place to Karlsruhe."
All in all a very successful weekend for all fencers!
Final placings:
Epee: 2nd Fabian Lansche, 8th Manuel Baptista, 11th Johannes Müller, 19th Alexander Kraus, 50th Alina Heckel, 56th Thomas Barteit, 57th Dominik Rimpf, 62nd Daniel Hilbert, 69th Stefanie Pitz, 75th Nicolas Ziegler, 76th Chantal Brandstätter, 84th Michaela Sassadeck
Foil: 5th Johannes Müller, 8th Manuel Baptista, 11th Alexander Kraus, 35th Johannes Fries, 50th Daniel Hilbert, 51st Chantal Brandstätter, 58th Nicolas Ziegler, 59th Carolin Lebek
Sabre: 3rd Andreas Frölich, 15th Erich Bretnütz
Uni ranking: 1st ECE-ULM Paris, 2nd KIT, 3rd Uni Mainz