KIT Runners with 10 Athletes at Cross Run DHM
KIT Runners with 10 Athletes at Cross Run DHM
Like last year, the German University Championships on 20.11.2016 in cross-country running were this year included in the prestigious Darmstadt Cross.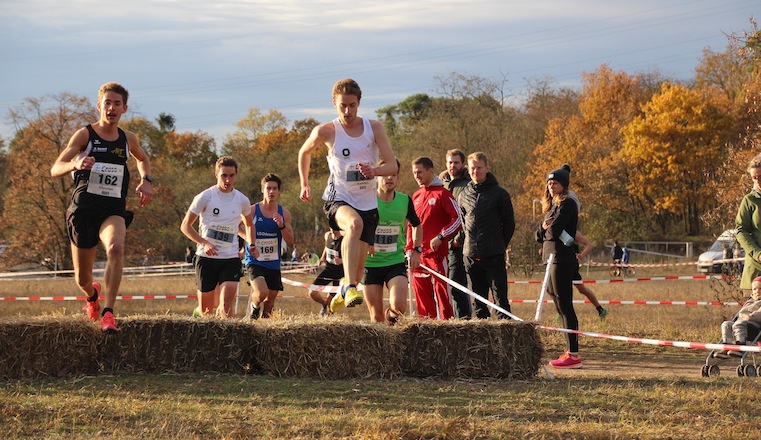 This resulted in high-class starting fields. Both in the women's race over 6600m and in the men's race over 9000m international athletes and German Olympic participants were at the start. The course, which had to be run 5 laps (women) and 7 laps (men), was diversified by three steep hills, sandy sections, many curves and straw bales. The conditions were ideal for a cross-country run due to pleasant 15°C, but partly strong wind.
For the first time this year a women's team of the WG Karlsruhe was at the start. This team could convince against the strong competition. The team was led by Sarah Hettich, who finished 13th in a strong 25:35 minutes. Just under a minute behind her, Amélie Svensson (20th) also showed a strong performance. In their first or second ever cross-country races, Franziska Stemmer (35th), Simone Palzer (49th) and Esther Mengelkamp (55th) followed behind and rounded off the very good team performance.
Excellent place in the team ranking
In the men's race Philipp Kern showed an outstanding race with the 10th place in 31:26 minutes. About one minute later Daniel Debertin (20th), Karsten Müller (24th) and Felix Möhler (28th) finished shortly after each other. Peter Raber also showed a strong performance in his first cross-country race in 38th place. Thus also the men's team showed a good performance despite the injury-related absence of Alexander Sutschet and still a little tired legs due to previously completed mountain or marathon runs.
In the team ranking, where the placements of the best three athletes are added, the women's team reached a very good 5th place with only 7 points behind the third-placed team. In the men's team, it was even closer: The KIT athletes reached the 6th place with only 2 points behind the bronze rank. Thus, a consistently positive conclusion can be drawn: With a record number of participants of 10 athletes and both a men's and a women's team, WG Karlsruhe presented itself strongly and benefited from a professionally organized event with top-class competition.