KIT rowers successful in Nantes
As has been the tradition for over 20 years for the rowers of the Karlsruhe Institute of Technology, they went to Nantes, France on the 1st weekend in May.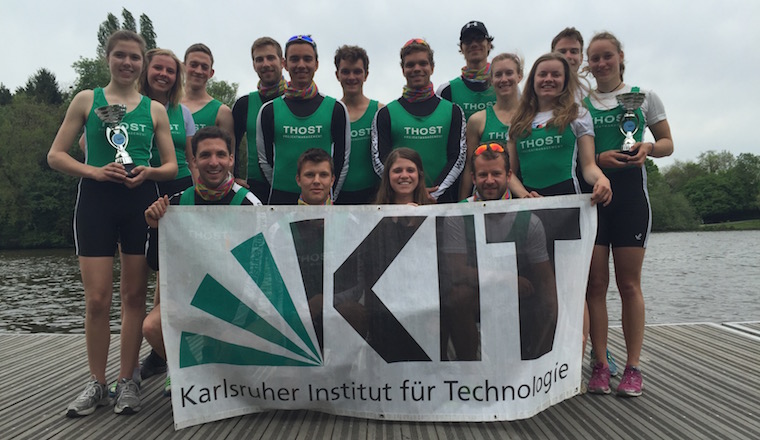 Thursday evening we left for the Atlantic Ocean. After a smooth ten-hour trip, the team explored the wonderful earth.
On Saturday morning, the men's eight started at 10:30 a.m. for the first 1000m race. The team around coxswain Linda Kromer could prevail against their opponents like the last years and after a time race, in the semifinal and final, they could secure the victory for KIT.
The women's double four could do the same as the men's eight and won all three races sovereign.
For the men's double four, which actually consisted of three men and one woman, it was a matter of gaining racing experience in Nantes. They had to admit defeat to the team from Nantes.
At the award ceremony in the evening, it became clear once again how much the organizers are happy to invite the KIT rowers every year and to let the tradition continue.
Men's eight again victorious
On Sunday, the men's eight was again the first boat to row across the 500m finish line. In three very exciting races the men's eight could again prove its strength as a team. This time it was only close against a team from Paris, which wanted to beat the team from Karlsruhe, but lost in the final.
The women's double sculls were also able to beat the competition from Barcelona, Paris, Angers and Nantes on Sunday and won the final.
Our men's double four unfortunately did not manage to beat the competition from Nantes and had to settle for a third place.
All in all, it was again a successful and instructive weekend. The KIT students were able to defend their titles in the eight on both days and the women's double four added a new title. A good start into an exciting new season, which will culminate with the European University Championships in Zagreb in mid-July.
Our special thanks go to the Karlsruhe Rowing Club Wiking for the provided boat material, the University of Nantes for the invitation, Thost and Agosi for the financial support and last but not least the KIT Hochschulsport.