DHM Triathlon 2019 in Wolfenbütttel
In Wolfenbüttel on 31.08. and 01.09. the fastest male and female triathletes of German universities were searched for over the sprint distance.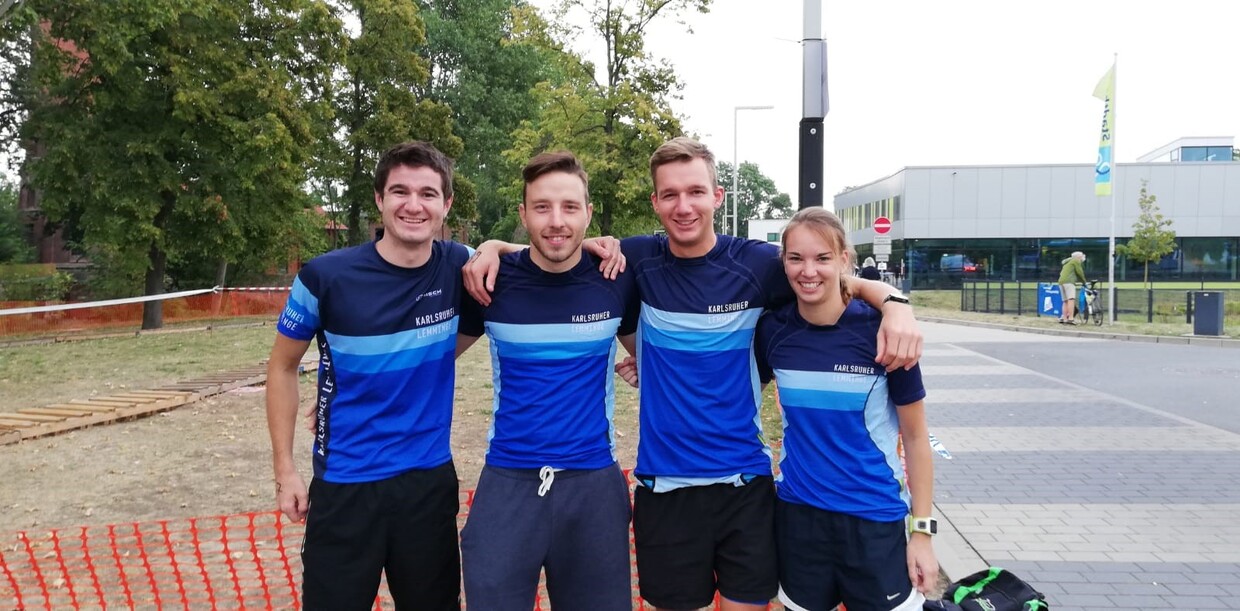 For the Karlsruhe colleges the 4 athletes Andrea Kinberger, Fabian Weick, Chrstian Krämer and Stefan Reschwamm went into the race.
So we started early on Saturday morning in northeastern direction. Arrived on time we had enough time to move into our room in the accommodation organized by the organizer. After that, it was off to the outdoor pool, where Saturday's Mixed Team Relay was the first part of the competition. In this format, each of the three starters (one female, two males) completes a full triathlon over the super sprint distance (200m swim; 7.5km bike; 1.5km run). Both the format and the weather promised a hot competition.
At 4 p.m. the starting signal was given and Christian started the race for the Karlsruhe team. After about 20 minutes he was back and handed over to Andrea. After another 25 minutes she sent Stefan on the track. Under the usual loud cheering he secured the 7th place for the WG Karlsruhe with a strong running performance in a well-staffed field.
On Saturday evening all athletes were invited to the Ostfalia evening in the refectory of the organizing university. Here there was first an outstanding pasta buffet to fill the carbohydrate stores for the upcoming individual competition the next day. This was followed by the award ceremony for the mixed team relay and - as is usually the case in professional races - the competition briefing for the next day.
On Sunday it was time to get up early again - breakfast was served in the youth hostel from 5 a.m. - and off to the swimming pool. The individual competitions started in three starting groups with the 500 m swim in the indoor pool. Christian started as the first Karlsruhe swimmer, Fabian and Stefan followed in start group 2 and Andrea finally in the last start group. In the end it was enough for place 20 for Andrea, place 15 and 16 for Christian and Stefan and place 25 for Fabian in a strong field with national league starters and student world champions. Results with which all are very satisfied after a long season.
These very well organized university championships in a so far unique setting over two days with a very successful program and competitions will definitely be remembered and already motivate again for the training for the next season.