Interactive Campus Map
The interactive campus map of KIT allows searching for facilities, institutes, lecture halls, and buildings.
Outside the above business hours | from 17:30
Drive onto KIT Campus South, the barriers usually open at 5:30 pm - and park directly in front of the IfSS.
Site plan (pdf)
Address IfSS:
Engler-Bunte-Ring 15, Building 40.40
76131 Karlsruhe
Visitor registration is handled by your contact person at the IfSS.
Monday to Friday | 7:00 to 17:30
Drive to the main entrance of the KIT and stop shortly at the hard shoulder in front of the library building. Report to the gate in the library. You will be given a pass and can enter the South Campus. Site Plan (pdf)
Address main entrance:
Engesserstrasse 19
76131 Karlsruhe
Address IfSS:
Engler-Bunte-Ring 15, Building 40.40
76131 Karlsruhe
Outside the above business hours | from 17:30
Drive onto the South Campus of KIT, the barriers usually open at 5:30 pm - and park directly in front of the IfSS.
Site plan (pdf)
Address IfSS:
Engler-Bunte-Ring 15, Building 40.40
76131 Karlsruhe
Management of the Institute
Management
apl. Prof. Dr. phil. habil. Michaela Knoll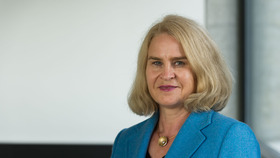 Student secretariat