KIT Fencers at the German University Championships in Leipzig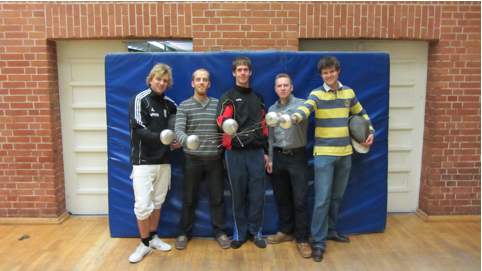 About 350 fencers competed at the German University Championships in Leipzig this year. The KIT fencers Jaakob de Vries (epee, foil), Andreas Frölich (sabre), Christopher Störrle (epee), Christian Rockenhäuser (epee) and Jannik Trapp (epee) competed in all 3 disciplines.
Saturday morning the epee fencers started first. Unfortunately, Jannik Trapp and Christian Rockenhäuser had to settle for 82nd and 88th place in the first preliminary round. Christopher Störrle and Jaakob de Vries advanced and reached 22nd and 36th place. The winner of the men's epee competition was Niklas Multerer from Ansbach University of Applied Sciences with a narrow lead of one point ahead of Constantin Boehm from Stuttgart University. In the afternoon Andreas Frölich reached the 14th place in the men's sabre. Here Marlon Hirzmann (Uni Giessen) and Stefan Preßmar (Uni Hohenheim) faced each other in the final, which Hirzmann won. On Sunday, Jaakob de Vries entered the fray again, this time armed with the foil. After two preliminary rounds he was seeded 14th and won the KO round of 64. The victory of the first fight of the round of 32 went to him again. After that, however, de Vries had to admit defeat 2 times despite strengthening with bananas and cheering shouts to end up in 18th place. The final was won by Maximilian Kummer (TU Dresden) against Alexander Gsching (DHBW Heidenheim).
Of course, the social get-together did not come too short with a meal at the Thüringer Hof and interesting music selection of the DJ at the fencing party on Saturday evening.