KIT golfers successfully defend their title!
KIT golfers successfully defend their title!
From June 8 to 9, the HORBACH DHM Golf 2013 was held at the Johannesthal Golf Club.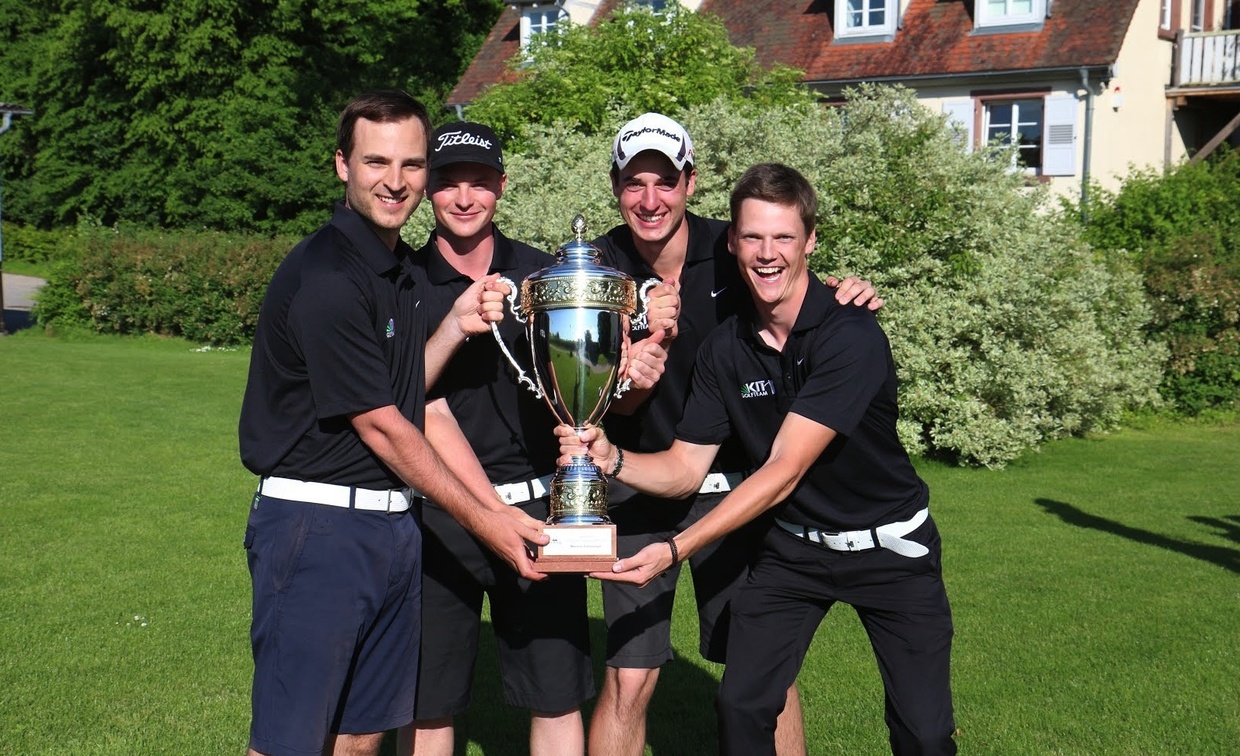 With very good conditions on Saturday and a start delay due to thunderstorms on Sunday, the first team of KIT Karlsruhe (Jonas Kugel, Fabian Haug, Sven Mäder and Julian Schinnenburg) could defend their team title of last year. With 9 strokes ahead of the second placed team from Bremen (Hinrich Arkenau, Philipp Reinermann, Sven Thies and Matthias Peschke) and 10 strokes ahead of the shared 3rd place of the teams from Hohenheim (Max Krämer, Konstantin Dolderer, Axel Mohr and Steffen Hadasch) and Darmstadt (David Mayer, Michael Hegemann, Matthias Wild and Torsten Heydt).
The winning team of KIT Karlsruhe is now entitled to participate in the European University Championships in Saint Saens / France in September.

The field of players was very well represented. A total of 89 players took part in the championship, among them were 11 women. To win the individual competition in the men's category, the players needed 8 strokes under par (138 strokes), only Jonas Kugel from KIT Karlsruhe managed this. Behind him were Benedict Gebhardt (143 strokes) from RWTH Aachen and Max Krämer (145 strokes) from the University of Hohenheim.

Kristin Merk from Berlin won the women's competition with 9 strokes over par (145 strokes). Behind her were Jana Kohlhammer (160 strokes, HS Heilbronn) in second place and Katharina Dorsheimer (171 strokes, Uni Würzburg) in third.


The tournament was held on Saturday in bright sunshine. Nevertheless, the game was challenging on the hilly course with many steep climbs. However, this was no obstacle for the good scores of the winners. On Sunday morning, the start was delayed one hour due to a thunderstorm, so that the entire field of players did not take to the course until 9 am. However, due to the delay in the start, all players managed to get over the round dry. At the end, even with bright sunshine again with isolated spring clouds, the successful tournament found a fitting conclusion with a joint award ceremony.