DHM Rowing: Five Medals for the KIT Team
The German University Rowing Championships took place in Brandenburg an der Havel last weekend. The students from Karlsruhe could be happy about one gold, one silver and three bronze medals.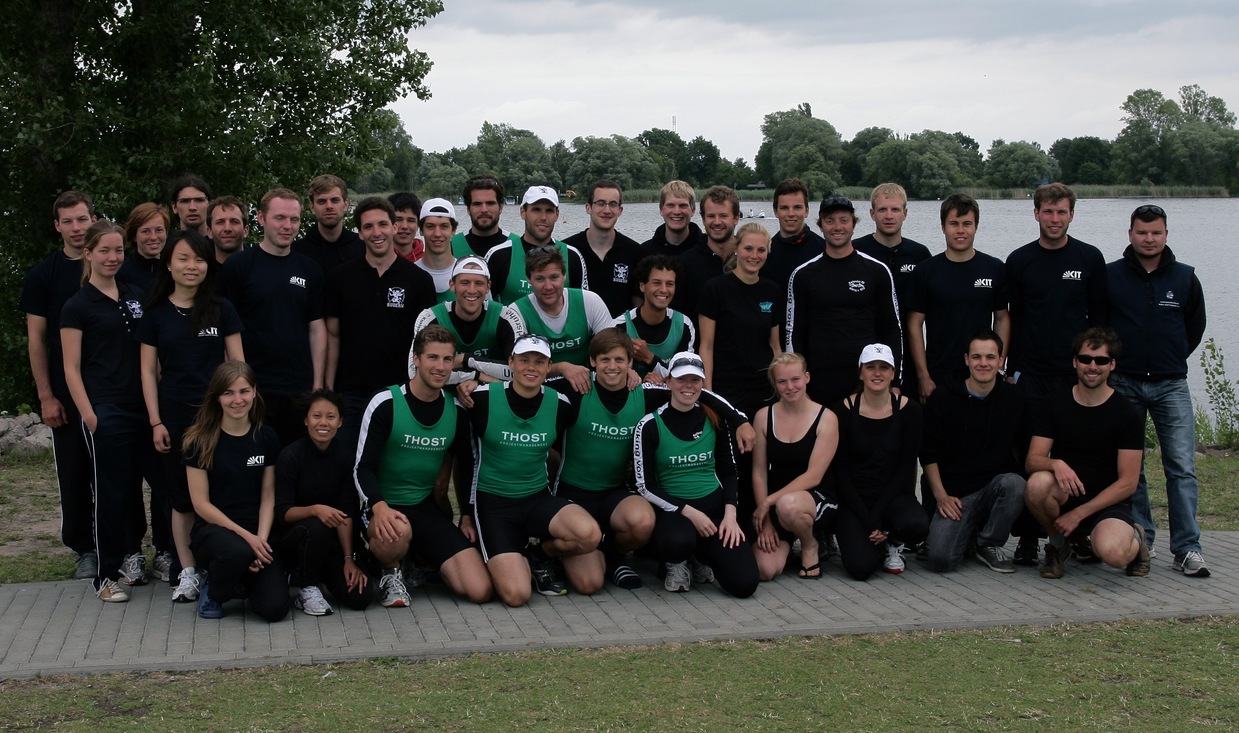 For the rowers of the Karlsruhe universities, the German University Championships are the annual highlight of their season. This year, they were held on the traditional regatta course on the Beetzsee in Bandenburg, which has also been the venue for junior and U23 world championships in the past.

This year, the organizers were once again able to set a record for the number of registered athletes, with over 250 boats competing for medals. The fact that among them were also some rowers who had competed at the 2012 Olympic Games is a clear sign that the sporting level of the event has risen further compared to recent years.

For the rowers from Karlsruhe, Felix Kottmann and Cedric Kulbach opened the finals in the lightweight double sculls on Saturday afternoon. In Beetzsee-typical sideways headwinds, they raced fast from the start and were able to take the lead of the six boats until halfway through the 1000m distance. At the beginning of the final sprint the opponent from Dortmund sensed his chance, attacked the Karlsruhe team and could pass them on the last 100m. In the end, the Karlsruhe had to admit defeat by 0.6 seconds, but could be happy about the silver medal after a hard race in difficult conditions.
In the newly introduced race in the men's four with coxswain for starters without experience in national and international regattas, the Karlsruhe boat, consisting of Christoph Umminger, Michel Kluge, Jan Ripperger, Lennart Puck and coxswain Lisa Beer, was able to keep up well in the five-boat field and was in second position behind the leading boat from Münster for a long time. In the final sprint they had to let the boat from Dresden pass, but the Karlsruhe team was visibly satisfied with winning the bronze medal.

The highlight of the day was the men's eight in the late afternoon. Here, for the first time in several years, there were preliminary heats, in which the Karlsruhe team was beaten by the defending champion RWTH Aachen by a very narrow margin, but ultimately secured its ticket to the final by winning the heat. In still difficult conditions, the eight from Aachen managed a good race, but lived up to its role as favorite, taking the lead early on and not relinquishing it again until the finish. Behind them, a close battle raged for places 2 - 6 with slight advantages for the eights from Karlsruhe and Hamburg. With a strong final spurt, Hamburg finally secured second place, followed by the Karlsruhe boat, which was able to fend off the attacks of the other boats. Thus, the team consisting of Matthias Reichelt, Maximilian Detmer, Heiko Gulan, Andreas von Borstel, Robert Schneider, Klaus Brümann, Simon Gessler, Simon Schiml and cox Madeleine Merdes finally won the bronze medal.

On the second day of the regatta, Vera Dohmen started for Karlsruhe in the women's single. With again strong wind she proved her strength in this boat class and secured the title with more than 2 seconds ahead of two starters from Berlin.
Felix Kottmann and Cedric Kulbach faced the competition in the lightweight men's single. Cedric Kulbach rowed his way through the preliminary heat and the heat of hope into the final. There he rode a strong race, but could not intervene in the fight for the medals. In the end, he finished in a respectable 4th place. Felix Kottmann could not qualify for the final, but finally ended up in 7th place overall with a victory in the small final.
In the men's four without coxswain, the Karlsruhe team had to survive preliminary heats and semifinals with 17 boats entered. The team consisting of Maximilian Detmer, Robert Schneider, Andreas von Borstel and Simon Gessler succeeded, so that they were allowed to compete in the final of this boat class in the afternoon. With Sebastian Schmidt and Urs Käufer in the boat from Bochum and Cologne, two finalists from London also competed in this boat class. However, it was the boat from the universities of Hamburg, Würzburg and Duisburg-Essen, which led this field early and drove to an unchallenged victory. Behind them, the boat of the universities of Bochum and Cologne clearly took silver, bronze went a little closer to the TU Dresden. After numerous races this weekend and little preparation in this boat class, the Karlsruhe four was only able to finish 5th behind Berlin and ahead of Hamburg. The second quad from Karlsruhe, consisting of Matthias Reichelt, Klaus Brümann, Heiko Gulan and Simon Schiml, made it to the small final and came in 9th overall.
The final race was again the men's eight, but this time over the shortened distance of 500m. Here, too, there had been preliminary heats, and the Karlsruhe team had directly secured a place in the final by beating the boats from Bremen and Würzburg. In the last race of the day, the eight from Aachen again showed its strength and went on to victory in the sprint distance as well. Close behind followed a boat from the universities of Bochum, Duisburg-Essen and Cologne, which was strong with Olympic starters and ex-national team members. The Karlsruhe eight was able to hold its own against the attacks of the boats from Hamburg and Bremen and once again won the bronze medal.

Coach Ralf Thanhäuser was satisfied with his team's performance: "I think these were all good results. The level of the event has increased significantly in the post-Olympic year, but we still achieved similar results to last year. We were well prepared and were able to consistently deliver our potential even after many runs. From that point of view, we can be absolutely satisfied with the results.".
For the rowers from Karlsruhe, the Baden-Württemberg State Championships are now still on the agenda on July 20 and 21, which will take place in Breisach as in the last two years.

Text: Simon Schiml