Karlsruhe table tennis teams dominate DHM preliminary round
At the preliminary round of the German University Championships in the table tennis team competition, both Karlsruhe teams were able to celebrate their entry into the DHM intermediate round.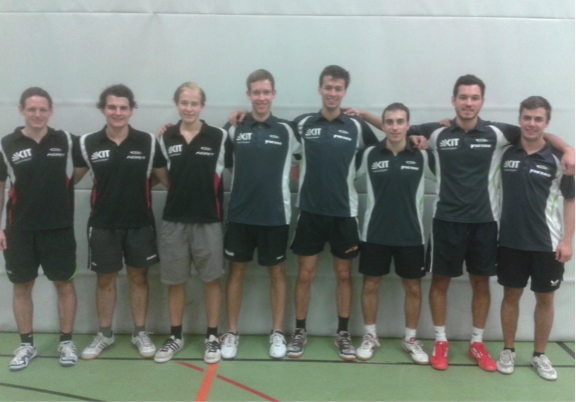 In the KIT sports hall, two preliminary groups were organized in parallel. The favored team WG Karlsruhe I, in the line-up Jan Müller, Christoph Füllner, Jonas Malutzki and Daniel Schmauder, had to face the teams of WG Ulm II and WG Augsburg. With two unchallenged 6:0 victories and only 3 set losses, the first team easily met the expectations and became group winner ahead of WG Augsburg.

Karlsruhe II had much more difficult tasks to solve with WG Ulm I and the team of DHBW Lörrach. However, Julian Deschner, Tobias Walch, Patrick Mößner and Julian Jirasek showed themselves in excellent shape and defeated their opponents in partly gripping matches also with 6 : 0 and 6 : 0. The unexpectedly clear result speaks for the high level on which our competition team operates in great breadth.

In addition to the sporting performances, the good atmosphere among spectators and athletes as well as the organization and catering contributed to the fact that the DHM preliminary round at KIT was a successful event.