KIT Tennis Team Beats Heidelberg at DHM Preliminary Round
On 13.05.14, the first preliminary round match against the "neighbors" from Heidelberg was on the agenda for the KIT team. With a lot of motivation in the luggage, they went into the first challenge, which took place at home at KIT.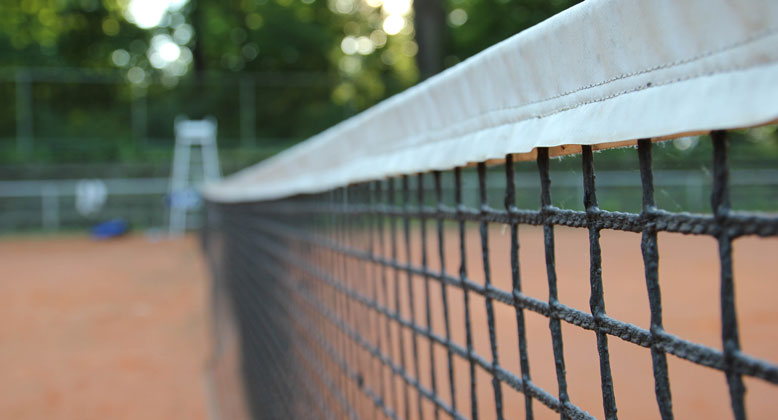 All players had to cope with very changeable conditions and show what they can do. From sun or cloudy, to rain, everything was there.
Punctually at 1 p.m., all six pairings took to the courts of the KIT and played themselves in. However, after a short warm-up time, the matches had to be interrupted due to rain. Fortunately, all the matches could be continued after a few minutes without further interruption.

Hannes Abt, playing at position one, had a great start and won the first set 6:1. After that he had some problems and had to give away the second set 6:1, but then he found back to his usual solid play and won the third set 6:1.
Michel Abt played at position two. After a tight and tough first set which Michel won 6:4, his opponent's resistance was a bit broken and Michel won the second set 6:2.

Fabian Vierlinger, playing at position three, had the most curious match. He started very aggressively and won the first set 6:0. After that, the match took a turn and Fabian had to admit defeat in the end with 6:0, 3:6 and 1:6.

Simon Kühbauch played at the fourth position. He had a very close and exhausting match with some long rallies. Both players played good tennis and Simon finally got the upper hand with 7:5 and 7:5.

On position five Anna-Benita Fuchs played a very strong match against a very good opponent. With her aggressive baseline play she won in two sets 6:4 and 6:2.

Ann-Kathrin Pfeifer played at position six. After a nervous start, she also played very solid, controlled tennis and won 6:4 and 6:2.

All matches against the guests from Heidelberg were not a foregone conclusion and were hard-fought. In the end, the victory for KIT was already certain after the singles and they could rightly be happy about their entry into the next round.