DHM Table Tennis 2015 in Hamburg
On Thursday the 28.05.15 the table tennis team of the WG Karlsruhe set off around 10:30 am to the Hanseatic city of Hamburg, where this year's German University Championships took place from 29.05-31.05.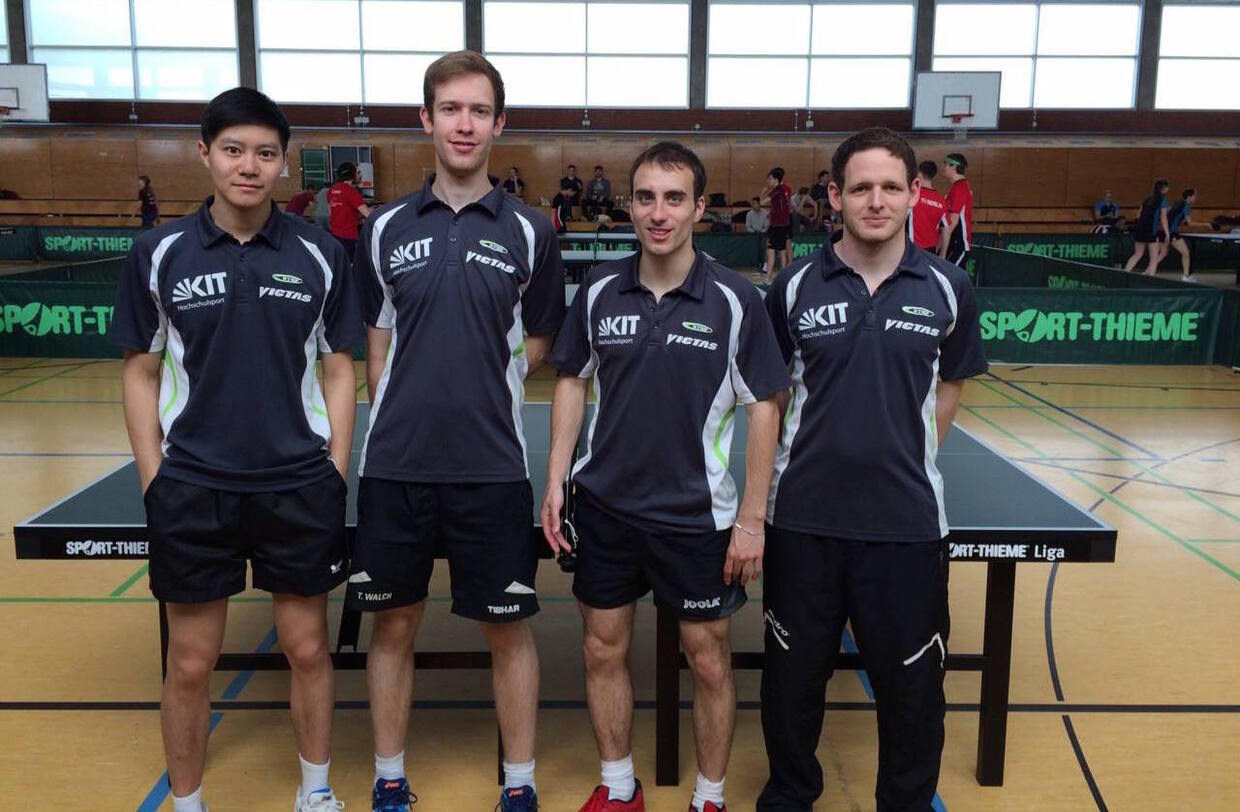 After Karlsruher SC took home a point against Hamburger SV on Thursday evening, the table tennis team was tasked with doing the same as the footballers and putting in a good performance.
With a lot of optimism, but also a fair amount of respect for the opponent, the Karlsruhe team tried to stand up to the Uni Hamburg in the first match on Friday morning at 9 o'clock in the line-up Tobias Walch, Christoph Füllner, Steven Yan and Patrick Mößner. After the opening doubles, what they wanted to avoid as much as possible occurred, namely to run after a 0:2 deficit. Walch/Mößner lost narrowly with 2:3 against the doubles 1 of the hosts. Yan/Füllner also lost to their opponents after a good performance. Now Walch and Füllner were challenged, but both had no chance to win 0:3 and were clearly defeated. Yan won the only point of the match after a courageous performance by defeating his favored opponent 3:1. This strong performance by Steven gave the Karlsruhe team some more courage. Unfortunately, Mößner could not find a way against his opponent's unpleasant game and was defeated 0:3. At the score of 1:5, it was now Tobias Walch's turn in the front pair, who had to stand his ground against the number 1 from Hamburg. He did not succeed in spite of intermediate leads and the active support of the Karlsruhe audience, which had meanwhile found its way from the hostel into the hall, before he had to congratulate his opponent in the end with 9:11 in the 5th set. All in all, a supposedly clear affair for Hamburg, but the result of 1:6 is somewhat deceptive, since two matches were lost extremely narrowly.
In the following match against TU Berlin, the team was trailing right from the start. The doubles pairing of Yan/Füllner played strongly against the top doubles of Berlin, but lost narrowly in five sets. Mößner/Walch had no chance at 1:3, so that the score was 2:0 for Berlin. In the front pair neither Walch nor Füllner could win a set and lost 0:3. When Julian Jirasek, who replaced Patrick Mößner, lost his single 1:3, Steven had to win to get a point of honor in this match. However, he also lost against his favored opponent with 1:3, so that a clear 0:6 defeat stood in the books.
Uni Koblenz/Landau triumphs
UNI Hamburg then beat TU Berlin 6:4, which meant a place in the team finals. There they beat WG Braunschweig 6:0 in the semi-finals. In the second semi-final, UNI Koblenz/Landau defeated their opponents from WG Munich 6:4 in a high-class match. In the final, as last year, it was the end of the line for the Hamburg team. They were beaten 3:6 by UNI Koblenz/Landau. The third place was secured by WG Munich with a 6:0 against WG Braunschweig.
Last decisions in Mixed and Doubles
In the mixed competition, which was won by Marc Rode (UNI des Saarlandes) and Yuko Imamura (UNI zu Köln), none of the 10 players from Karlsruhe competed, so they went into the singles and doubles rounds focused. In the singles, the two best players were determined in 54 groups of 3 participants each, who then competed in the main round in the KO system. Of our 10 participants, a strong 9 players made it to the main round. There Julian Jirasek, Robert Groch, Tobias Bühner, Thomas Schüle and Steven Yan had to stop. Especially Steven and Julian had their opponents on the brink of defeat, but lost in 5 sets. Again 4 players survived this 1st main round. In the 2nd main round it was the end for Julian Beisecker, Christoph Füllner and Tobias Walch. They had to congratulate their opponents after good games and partly beautiful rallies deservedly to the victory. The only remaining player from Karlsruhe in the field of 2nd and 3rd league players was Patrick Moessner, who surprisingly defeated Nguyen from TU Berlin 3:0 in the 2nd main round. Afterwards he met the later semi-finalist and former youth national player Marc Rode, against whom he lost 0:3. Thus, the singles competition for the Karlsruhe team was already over on Saturday evening. In the further course of the tournament, Stephan Pache from WG Munich met Michael Servaty from UNI Wuppertal and Marc Rode from UNI des Saarlandes met Alexander Flemming from UNI Leipzig in the semi-finals on Sunday. Servaty from Wuppertal won his semi-final clearly 4:0 and made it to the final where he met Flemming, who in turn secured his ticket by winning the semi-final 4:3. In this final, Flemming, who will play for TV Hilpoltstein in the 2.Liga in the coming season, won 4:1 against Servaty and secured the title of German University Champion 2015.
In the doubles competition, some doubles were unfortunately eliminated in the first round. Phi Dang failed with his partner from HS Hof in the first round as well as Thomas Schüle with Sahin Yildiz from HS Esslingen and Robert Groch with Erik Richter (DHBW Mannheim) against the later semi-finalists from Hamburg. However, the remaining doubles were eliminated in round 2 against higher seeded pairs. The first round win of Tobias Bühner/Patrick Mößner against the 11th seeded pairing Lukas Prinkop/Florian Rathmann has to be mentioned, which certainly not everyone would have expected. The doubles title was won on Sunday at noon by Björn Baum and Dennis Müller from UNI Koblenz/Landau against Marc Rode (UNI des Saarlandes) and Florian Wagner (UNI Düsseldorf) with 3:1.
Afterwards, the Karlsruhe team had to make the 630km long journey home, which they mastered without any major traffic jams. All in all, everyone involved can be satisfied with this year's university championships. It will be interesting to see where next year's championships will be held and to try to put together a strong team there as well.