KIT Team Successful at DHM Teakwondo
KIT Team Successful at DHM Teakwondo
On June 27 and 28, 2015, the German University Taekwondo Championships took place. Four medals went to the KIT!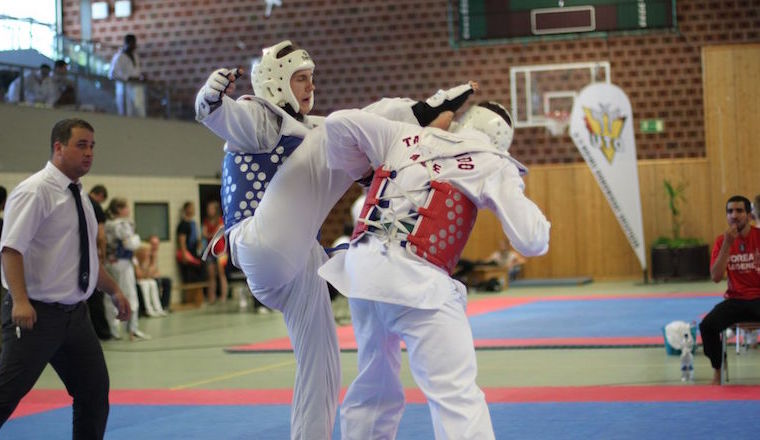 This year, Esslingen am Neckar was the venue of the German University Championship Taekwon-do. True to the motto "Being there is everything and winning is even better!", the six KIT athletes Bo-wen Wang, Dennis Wetzel, Kai Kleindienst, Karim Mnasri and Sascha Lutz traveled with KIT coach Robert Plasa, for accreditation and for the full-contact competitions, early on Saturday by train. The formalities were quickly completed, and the tournament also proceeded swiftly and largely injury-free on three competition areas. In category A there were three rounds and in category B two rounds of two minutes each. With a block-by-block dispatch of the weight classes, only quite short breaks remained for the winners until the next start, so the coach again gave the motto "to fight with brains". The boys did their job very well! And after a successful tournament day, which ended pleasantly early at 4 p.m., they went back home with three medals. On Sunday, the form competitions were still on the agenda. These held a fourth medal in store to reward Bowen and Robert for traveling there again.
Individual results of the KIT athletes
Kai Kleindienst (2nd place full contact +80kg category A)
Kai had to fight his way through a full pool list: He won his first fight with a clear advantage (see photos). In the quarterfinals he proved his nerves and won by sudden death. Kai then won the semi-final early by points advantage and met Hicham Massoudi (University of Mainz) in the final. Kai managed to take the lead at first, but the man from Mainz caught up and Kai finally had to settle for a narrow defeat. Second place!
Bowen Wang (1st place forms single category B)
It is especially pleasing that this year also a KIT athlete competed in the forms competition!
Bowen presented the Fourth and Fifth Forms (see photos) and won 1st place in the B Men's Singles category. With a great 29.9 points, he would be in seventh place overall in the men's category.
Sascha Lutz (1st place full contact -68kg category B)
Sascha went into this tournament very motivated: at the DHM 2013 it had not been meant to be and in 2014 he was unfortunately injured. Therefore, he wanted to know it this time and won the semifinal early with 13 points advantage in the second round. In an exciting final he defeated Niesels Mackenstein (Kiel University), who had previously also defeated his opponent by a wide margin. First place!
Oskari Pakari (2nd place full contact +80kg category B)
Oskari, who is now doing his Master's in Zurich, competed for Karlsruhe for (maybe) the last time at his third DHM. His experience made itself felt, he won two fights clearly and had to admit defeat only in the final against Eduardo Rodriques Semensati (FH Kiel). Oskari was thus able to repeat his previous year's placing: Second place!
Dennis Wetzel (full contact -80kg category B)
Dennis showed a lot of verve at his first DHM. He dominated his fight at the beginning but his hits did not reach the hit level of the electronic vest.
Karim Mnasri (full contact +80kg category B)
Karim was unfortunately unlucky this year and immediately met the later winner of his group, Eduardo Rodriques Semensati (FH Kiel). After a third place in 2013 and a second place in 2014, he went empty-handed in 2015.
Four medals in six starts
With four medals out of six starters, KIT had a very good medal haul.
For Coach Robert, who passed his diploma exam at KIT a few days before the tournament, this is a special reward for his commitment to university sports. Congratulations for this result to all starters of the KIT team. The KIT Teakwondo Team would like to thank all coach colleagues and training partners who directly or indirectly contributed to this success! So that it continues also in the future, promising new generation stands already in the starting blocks.