KIT Runners with Strong Performance at DHM Cross Run
KIT Runners with Strong Performance at DHM Cross Run
At the German University Championships in cross-country running, which took place in Darmstadt on November 22, 2015, KIT was represented by a record-breaking eight athletes.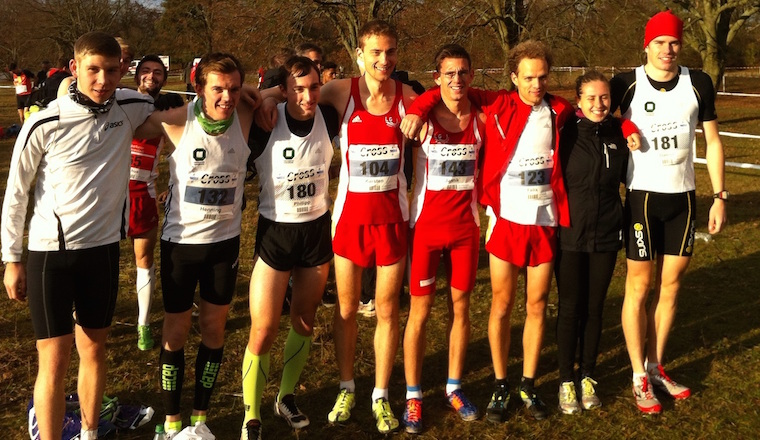 While Franziska Stemmer first had to master the 6600m long course with three steep hills, straw bales and two sections churned up by tractors in five laps, the other athletes faced the somewhat longer course of the men's race with 9000m and seven laps.
Despite continuous rain during the previous days and light rain on the morning of the competition day, the course was easy to run. During the race there were optimal cross-country conditions with 6 degrees and sunshine. As the DHM were integrated into the prestigious Darmstadt-Cross this year, there were high-class starter fields with international participation. There was also strong competition at the university championships with a total of 111 starters.
Jannik Arborgast Vice University Champion
In her first cross-country race, Franziska Stemmer, who even started without spikes, achieved an excellent 21st place. In the men's race, Jannik Arbogast finished as the second European in the overall race and thus became vice university champion, behind Hendrik Pfeiffer from TU Dortmund. Behind them, Alexander Sutschet (20th), Karsten Müller (21st), Henning Maehle (31st), Philipp Kern (38th), Daniel Schneider (41st) and Felix Möhler (44th) also showed very strong performances.
The strong team performance also resulted in the bronze place in the team ranking, where the placements of the best three athletes are added. Even the second team of KIT reached the 9th place in the team ranking.
Thus, an extremely positive conclusion can be drawn. The KIT athletes were able to assert themselves against top-class competition and benefited from an excellently organized event.