KIT Handball Players Reach Intermediate Round
At the preliminary round tournament of the DHM on Baden-Württemberg level, the KIT handball players reached the set minimum goal with the second place and thus qualified for the intermediate round in May on their way to the national final.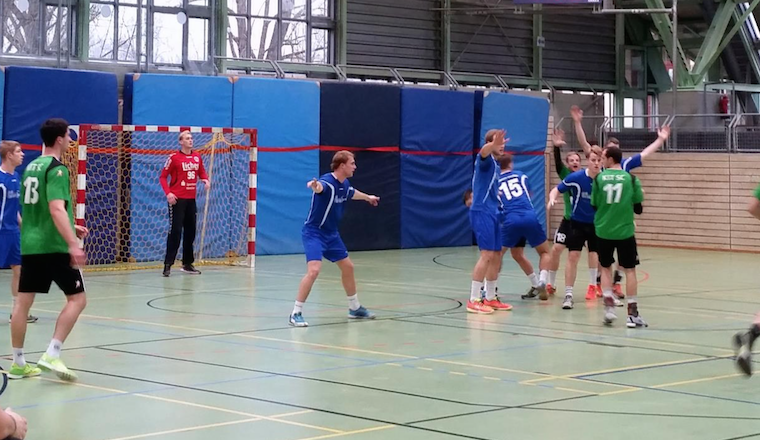 Without the German runner-up from Stuttgart, who was prevented from playing, only the host from Constance and the competition group from Tübingen entered the Baden-Württemberg tournament. Due to the never endangered victory in the first match against Tübingen the pressure was off and the entry into the intermediate round was secure. The host team from Constance also put Tübingen in their place, so that in the final between Constance and Karlsruhe it was a question of who would be the state champion and thus win a direct ticket to the final round tournament and who would have to go through the intermediate round. With an offensive 3:3 defense, they tried to slow down the 3rd league backcourt of HSG Konstanz, which succeeded until the close half-time score. Subsequently, quality and quantity prevailed against the decimated Karlsruhe squad and the team from Lake Constance was able to pull away in a pre-decisive manner to five goals midway through the second half, which led to the 27:21 final score for the hosts.
KIT handball players want to go to the national final
With the victory at the state level, Constance is thus directly qualified for the national final in summer. For WG Karlsruhe, it is a matter of waiting for the results from Bavaria. In a duel against the runner-up from Bavaria, the last remaining ticket for the final round will be at stake in May. With a further successful result the positive trend of the last three years, in which the handball team from the fan city reached the German final round of the best eight universities in each case, could be continued.
The intermediate round match is to be played in Karlsruhe. The exact date is yet to be announced on the university sports page. Come and support the team on their way to the national finals.
For the WG Karlsruhe played: Pascal Boudgoust (goal), Stephan Keibl, Maximilian Vollmer, Michael Förster (all SG Heidelsheim- Helmsheim), Raphael Kästel (SG Hambrücken-Weiher), Arne Koinzer (SG Rotenfels-Gaggenau), Gerrit Kirsch (SG Stutensee-Weingarten), Christian Fritz and Maximilian Mitzel (both TV Sandweier).