KIT Handballers Move into the Final Round in a Commanding Manner
On Thursday, June 9, the student selection teams from Bayreuth, Würzburg, Tübingen and Karlsruhe met in the sports hall of the IfSS to play the participant of the final round from the area of Southern Germany.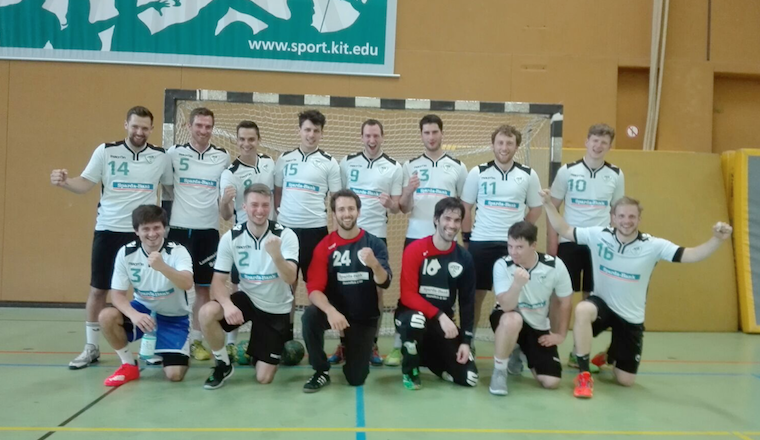 In the first match of the tournament, the hosts from Karlsruhe faced the selection from Würzburg. Despite dominating the first half, the students from Karlsruhe found it difficult to break away from the fierce Würzburg team. In the second half, however, the hosts managed to pull away goal by goal from a stable defense and the game ended 22:16 from the perspective of the WG Karlsruhe.
In the second game, the University of Bayreuth defeated the team from Tübingen with 25:19. According to the established tournament mode, the hosts from the fan city went up against the Württemberg competition from Tübingen. In a one-sided match, the boys of WG Karlsruhe left no doubt about the outcome of the game and won clearly with 27:14. After the duel of the two Bavarian qualifiers went narrowly to the team from Würzburg, the competition group from Karlsruhe had all the cards in their own hands in the last game against the University of Bayreuth. Theoretically, they could have qualified for the final round as tournament winners even with a narrow defeat, but the students from Baden didn't want to get involved in these arithmetic games.
Supported by a solid defense around the outstanding Jonathan Binder in goal, the home team scored easy goals again and again, which finally led to a clear 26:15 final result.
The team would like to thank the numerous spectators who again and again provided a great atmosphere in the hall and made the tournament a real home game!
By the tournament victory the selection of the WG Karlsruhe becomes with the fourth qualification in consequence the permanent guest with the final round. Congratulations for this!

For the WG Karlsruhe on the ball were:
Goal : Finn Stadtler, Pascal Boudgoust and Jonathan Binder
Field: Marvin and Marco Kikillus, Max Mitzel, Stephan Keibl, Philipp Schollmeyer, Philipp Ast, Frieder Krafft, Simon Spilger, Christian Fritz, Christian Kramer, Michael Förster, Maximilian Vollmer und Sebastian Wichmann