KIT fighters successful at Karate-DHM
KIT fighters successful at Karate-DHM
At this year's German University Championships Karate on 21.05.2016 in Halle, the Karlsruhe were represented with a large team.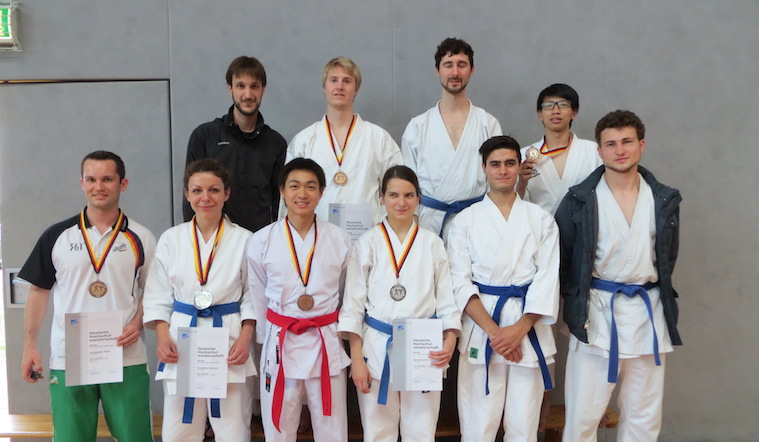 With ten athletes the Karlsruhe team drove in two rented cars on Friday in the direction of Halle. Unfortunately, there was unexpectedly a lot of traffic jam, which is why the participants arrived in Halle just a quarter of an hour before the start card distribution was completed. Afterwards, the Karlsruheers moved into their accommodations and went to bed early after dinner.

Saturday morning started at 9 am with the Kata lower level competitions. Since there were four tatamis to fight on, it became quite challenging to keep track of who was where and when. For example, it also happened that the Karlsruher had to point out to the competition management that they could not fight on mat 3, because the Kata on mat 1 was not yet completed.

Newcomers with super performance

It was especially pleasing to see so many competition newcomers this year. These competed in the beginner categories and in a strong entry grabbed four of our medals.
Also noteworthy was the performance of Christopher Mack, whose performance qualified him for the European University Championships next year.

Unfortunately, one of our fighters injured his left ring finger joint. He was taken to the emergency room. By taking turns to take care of the fighter, everyone else was still able to participate.
After the competitions and the award ceremony we had a short cookout in the hostel and then went out into the city.
The return journey took place on Sunday.

All in all, the participants agreed to have had an exhausting but eventful and successful weekend.