KIT Boxer Laura Masek University Champion 2016
About 100 students fought for the German university boxing title in Marburg from July 15-17, 2016, with Laura Masek from KIT bringing the title back to Karlsruhe.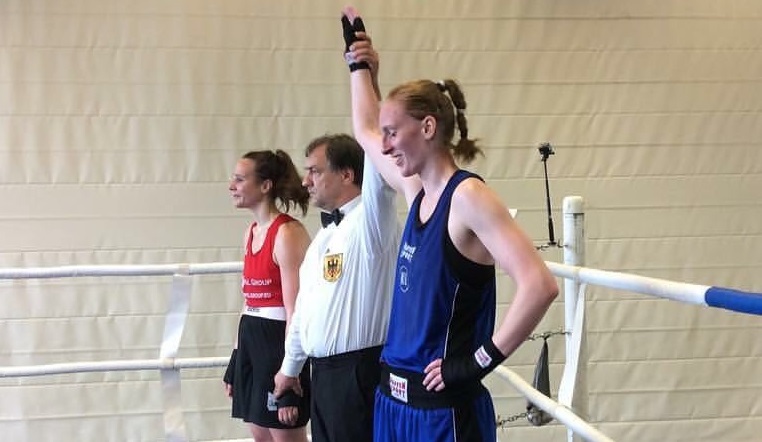 Finally, on Friday evening, the draw announced that Laura Masek will fight her first fight in the middleweight division on Saturday morning. The assigned opponent was the favorite in the tournament with four wins and zero losses. To date, Laura Masek has only competed in one fight, which went without a score. The fighting time in the A-tournament was four times two minutes.
Living up to her role as favorite, her opponent tried to put her under pressure early on. But thanks to the optimal preparation of coach Tyson Gray, Laura Masek knew how to prevail. Nevertheless, it turned out to be an intense fight, which was decided by will in the end. The clear goal of leaving Marburg with a victory allowed Laura Masek to make the better decisions and ultimately win the fight on points.
Reunion in the final
Her opponent kept her chance to enter the final by winning in the evening after her first defeat against the third athlete in the middleweight division. Thus it was certain that there would be a reunion in the final.
Sunday morning finally saw a second clash. Aware of her abilities and with some tactical changes by coach Tyson Gray, Laura Masek dominated her opponent in all four rounds. She also won the second fight and thus the German university title 2016.