DHM finals volleyball
The ambitious KIT volleyball team starts with the aim to win the title of the German champion and to qualify directly for the European Championship.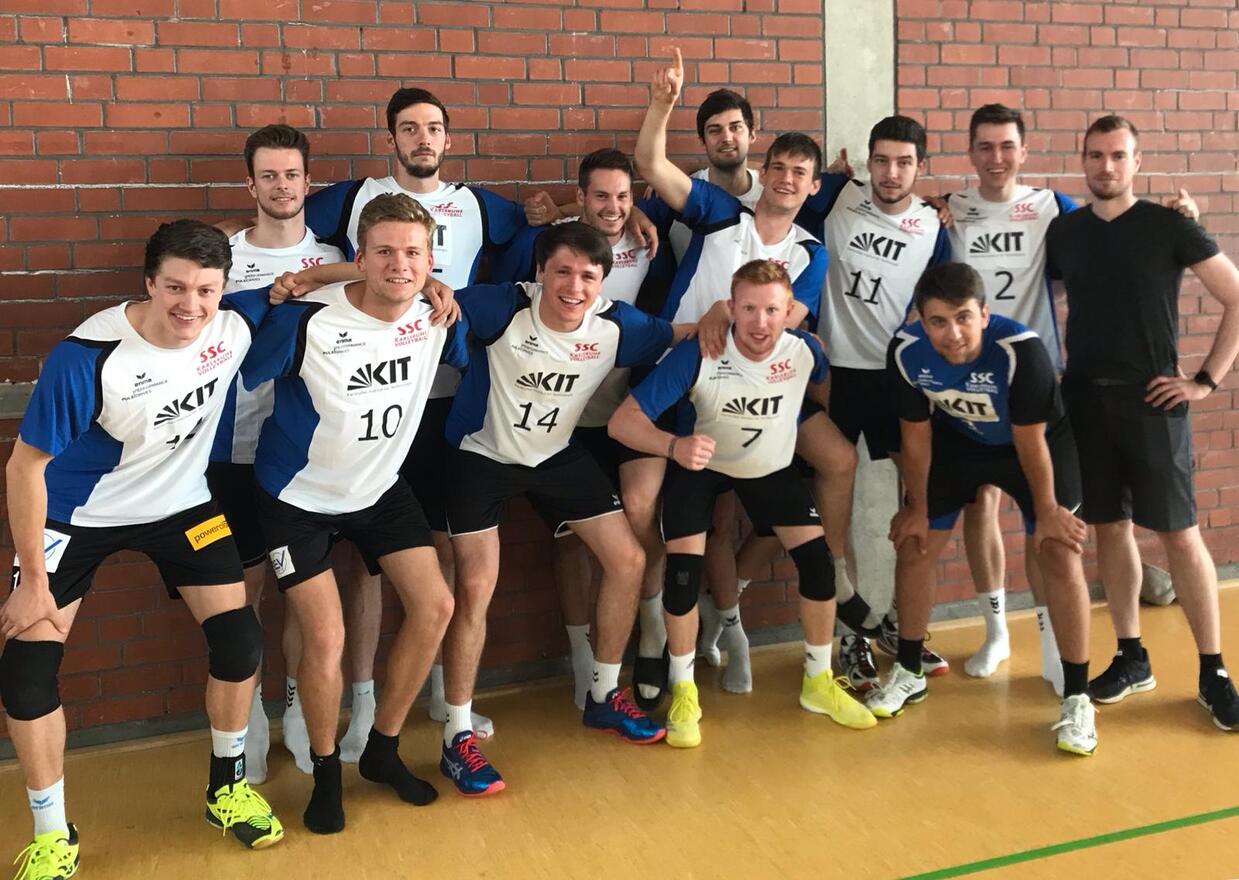 After the team qualified for the FinalFour of the four best German university teams last year and was defeated in the semifinals by a representative of the Ruhr area, this time it should come to revenge. The combination of the universities Duisburg/Essen could qualify for the final round and will face in the semifinals the KIT team consisting mainly of players of the Bundesliga team of SSC Karlsruhe. Against the strong team from the Pott, a difficult match is on the horizon - especially when the fan city team finds out upon entering the hall that the organizers have moved the start of the match two days earlier by 2 hours at short notice. However, this information reached neither the team nor the organizers on the Karlsruhe side, so that the warm-up time had to be reduced to a minimum. Not the best conditions, but with three winning sets, this disadvantage should only have an effect on the first set. However, the KIT team is able to hold its ground from the very beginning - until the middle of the set, the match is even. Strong serves and the diagonal player of Duisburg/Essen, who can hardly be held, are responsible for losing the first set. As a result, Karlsruhe's reception cannot really adjust to the serves and this insecurity is now transferred to the entire match - many service errors and easy mistakes in attack pave the way for Duisburg/Essen's 2:0 set lead. The KIT team quickly fell behind in set 3 and the match finally tipped in Duisburg/Essen's favor, so that the KIT team was denied a place in the final again this year.In the parallel match, the Munich team wins against the Nuremberg team and the match for 3rd place is scheduled for the next day. KIT will have to face Nuremberg.
After the disappointing semi-final from Karlsruhe's point of view the day before, the team wants to secure at least the third place in order to have at least a minimal chance to qualify for the European Championship. The team shows a strong improvement today - especially in the serve small series provide again and again for a constant lead. Despite the fierce resistance of Nuremberg, KIT succeeds in a smooth 3:0 victory and thus a conciliatory end of the university championship. So KIT can count itself among the three best university teams in Germany.