Split 2013, EM Diary: Entry 3
Split 2013, EM Diary: Entry 3
"All or nothing" - The last group match against Portugal: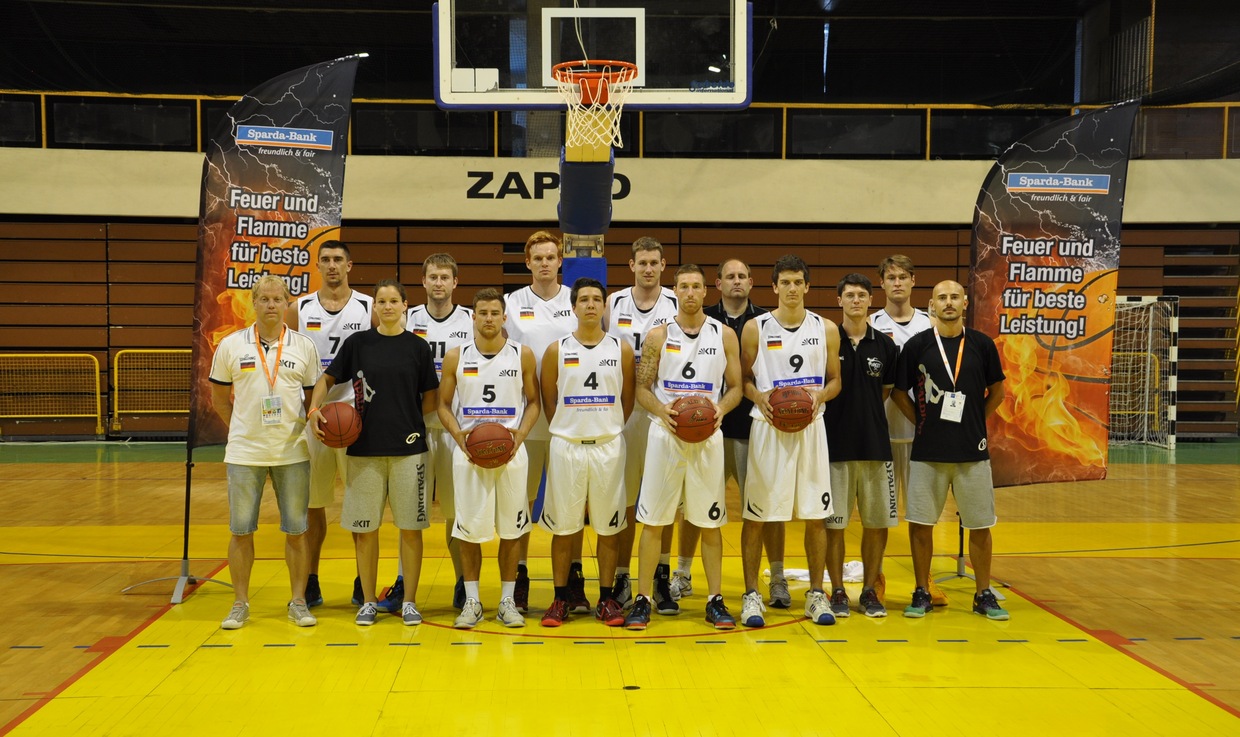 The final group game had to decide about the entry into the quarterfinals of the 12th European Student Championship.
In the match against the team of the Portuguese University of Coimbra, our KIT selection had the chance to make the biggest international success of a Karlsruhe university basketball team perfect. The requirements to achieve this goal were very simple...with a victory, the second place in the group could no longer be taken away from us.

Our boys got off to a great start and quickly led 6:0. Elnis Prasovic in particular quickly found his way into the game and scored the first important points. The Portuguese had nothing to oppose in this first quarter and so it was quickly 19:5 for our guys.
The first quarter ended after a very good performance of our team and an alley-oop of Elnis Prasovic (20 points in the first quarter!!) with 27:10.

Also in the second quarter our boys showed a very concentrated performance and could even extend their lead. One simply noticed:
It wanted everyone in the quarterfinals!
Thus the boys compiled themselves to the half-time break a 39:21 lead.

Our team also dominated the third quarter and extended its lead to an already decisive 29 points (59:30).
In the final period, we were able to easily drive the game home against unnerved Portuguese and finally won 70:37. Elnis Prasovic was the best thrower of the game (29 points) and Matthias Hurst was convincing with 18 rebounds.

Coach Uli Himstedt was not at all unnerved after the game: "With this victory we have already achieved our goal. Of course, we are proud to be the first team from Karlsruhe to advance to the quarterfinals at a European Championship. We are really looking forward to the next game, because now we can play free."
In an interview with the sport.kit media team, Uli Himstedt discusses the match against Coimbra as well as the possible quarterfinal opponent.

Head of delegation Dr. Dietmar Blicker (head of university sports at KIT) was also highly pleased with the tournament progress so far: "The boys are all fully committed and represent Karlsruhe Institute of Technology excellently here on this international and very demanding sporting platform."

Tomorrow, our boys will be able to regenerate and then, on Friday at 6 p.m., they will be rested and ready for the quarter-finals.
Impressions are available as always in our picture gallery!

Many greetings and see you soon from sunny Croatia

Your sport.kit media team