Great experience gain for Christopher Mack at the European Student Championships
Great experience gain for Christopher Mack at the European Student Championships
Last weekend, the SG Siemens karateka for the University of Karlsruhe (KIT) participated in the European Student Championships (July 19-21, 2013) in Budapest. The Karlsruhe sports student took 9th place in the ranking in Budapest.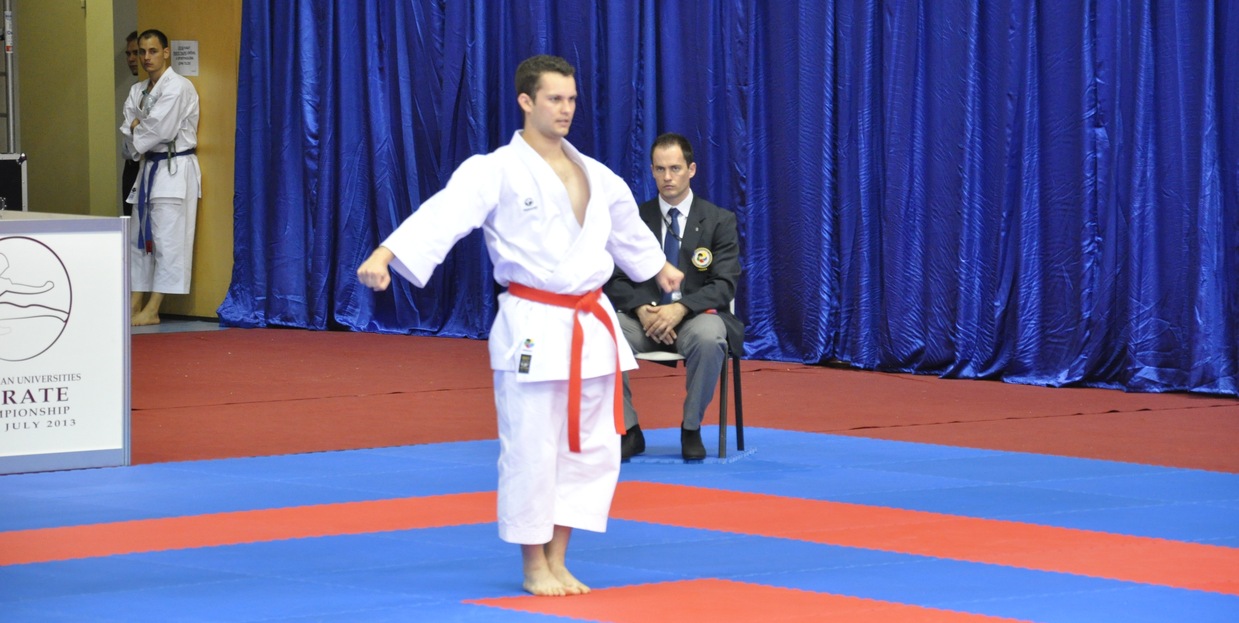 Already on Thursday (July 18) Mack traveled with his karate equipment to the capital of Hungary. Arrived at the accommodation, the athletes from the 27 participating European countries had to undergo a thorough registration. Since the cadre athlete from Baden-Württemberg already checked into the college around noon, he used the rest of the day to acclimatize and get used to the surroundings.

Finally, state squad athlete Christopher Mack started already on the first day of competition (Friday, July 19) at 9:30 am. Over 350 starters, representing 127 different universities, participated in this year's European Universities Karate Championship. The athletes were brought from the warm-up hall to their competition area for their start by the local volunteers. The team, which had traveled from Germany, cheered on their kata starters with loud cheers and applause, making the German starters extremely motivated to reach their potential. Sports student Mack already had the reigning EUC champion from Croatia as his opponent in the first round, who was also able to assert himself as the winner in this year's final. This left the Karlsruhe native with the consolation round, for which he had to keep warm for a good two hours. Nevertheless, he went into the next round highly concentrated, in which he demonstrated his highest Kata (Unsu = "hand in the clouds") flawlessly and fiercely in front of the five international judges. Despite all his efforts, he lost to his Serbian opponent with 1:4 ratings.

On the other two days of the tournament, the Germans cheered each other on, so that a few more placings could be achieved. Sightseeing in the megacity Budapest did not fall by the wayside during the stay either.

"The flight to Budapest was definitely worth it, because for me it was an enormous gain in experience and we had a lot of fun as a team," Mack commented after his first European Championship start. The 26-year-old will take the wealth of experience he has gained with him on the road to his sporting career.

Christopher Mack would like to thank the Sportgemeinschaft Siemens Karlsruhe, the Karateverband Baden-Württemberg, the Karlsruhe Institute of Technology and the Sports and Education Authority Karlsruhe, who supported the athlete during his participation in the European Championships. In particular, however, thanks go to his trainer and support team, which prepared the athlete and made it possible for him to qualify for the European Championships.