Another participation in the European Championship for karateka Christopher Mack
Another participation in the European Championship for karateka Christopher Mack
At this year's European Universities Karate Championships from 25-27 July 2017 in Coimbra, Portugal, 228 athletes representing 75 universities from 18 countries competed.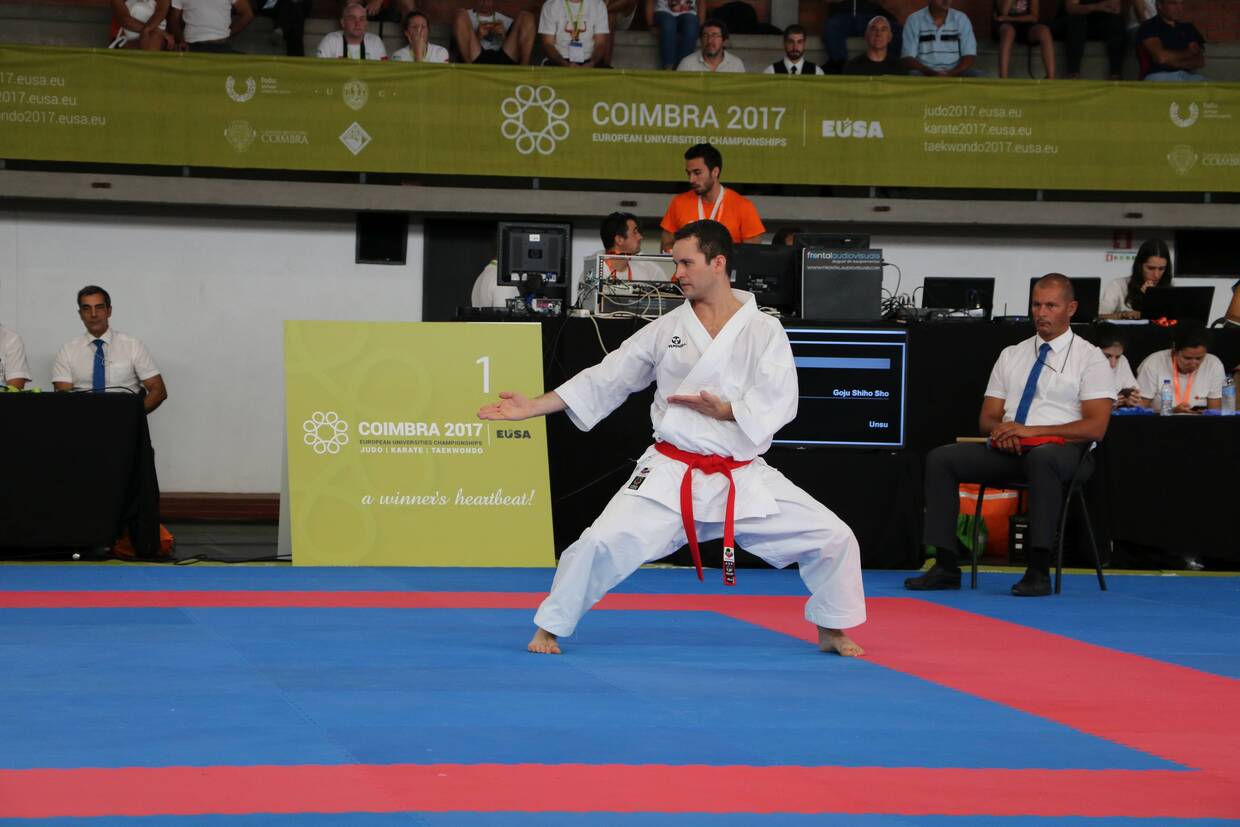 As karate is represented for the first time at the Olympic Games 2020 in Tokyo, this championship was also noticed by many top athletes and confirmed the high technical level.
The Karlsruhe Institute of Technology (KIT) was worthily represented by Christopher Mack at this biennial championship. He is a master student of sports science and a research assistant at the Chair of Applied Psychology of the KIT Sports Institute. The Karlsruhe native has been practicing karate for 21 years, is a holder of the 3rd Dan and had already qualified for the European Championship of the universities in his parade discipline Kata Single for the second time after 2013. For Mack, this was a highlight not only under his sporting ambition, but also because of his commitment in this area. The 30-year-old sports student is at the same time in the state squad BW and coach of the talent base in the Rhine-Neckar metropolitan region, where he shares his knowledge from his studies and his experience from competition with the young athletes.
On the day of the tournament, Mack faced Great Britain in his first match. "I had a good and confident feeling after my kata," said the Karlsruhe native. Nevertheless, it was not enough to prevail against his opponent in Portugal, who speculatively chose the highest kata (Unsu) right away. The Englishman then faced the internationally known national squad athlete Nagy Botond from Hungary and lost by a very narrow margin of 2:3 flags. This meant that Mack could no longer hope for the consolation round and was eliminated despite a good performance.
Link to the start: https: //www.facebook.com/Karate.Mack/videos/1623493974358695/
Extremely satisfied and confident, Mack said after his sporting highlight: "The preparation ran under good conditions and I gave everything, so winning is not everything. I think it's more about the passion with which you pursue your goal and develop your personality in the process." Master student Christopher Mack draws a positive balance from his sports career so far and thanks the following supporters for their support to the European Student Championships:
Institute for Sports and Sports Science / University Sports KIT
School and Sports Office Karlsruhe
Karate Association Baden-Wuerttemberg
Budo-Club Karlsruhe
Budo-Club Rhine-Neckar
-----
More information at: https: //www.facebook.com/Karate.Mack/