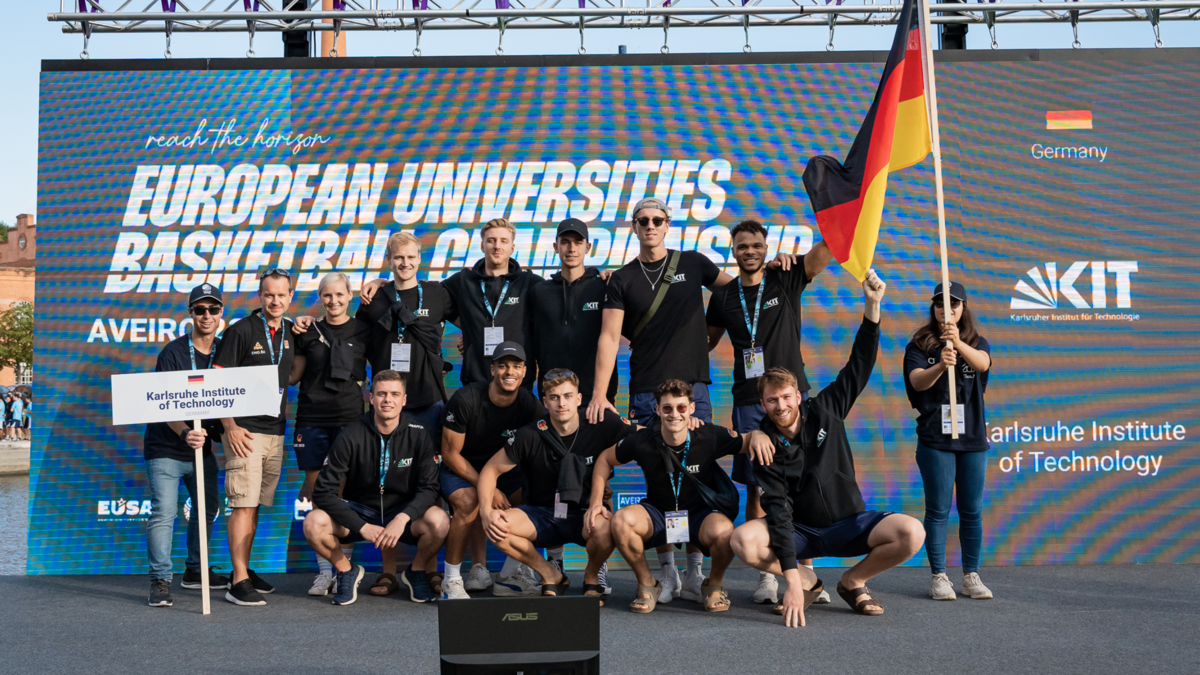 Karlsruhe basketball giants take 8th place at EUC
Datum:

07.08.2023

On July 23, a delegation of 10 players made their way to the EUC Basketball 2023 in Aveiro (Portugal) to take part in this internationally renowned competition for KIT from July 23 to 30. Despite the proximity to the beach and the vacation feeling, the boys didn't come here to relax.




16 men's teams and 12 women's teams from all over Europe took part in the EUC Basketball. The KIT team had qualified by finishing runner-up in the DHM 2022 and formed the German camp at the EUC together with the DHM winners, WG Würzburg. As the KIT players have already played many competitions, league games and university championships together, a well-rehearsed team was sent to Portugal, which was also able to prevail against physically superior teams.




The opening game was a tough task: Vytautas Magnus University from Lithuania, the eventual runners-up in the EUC. This was to remain the only defeat in the group phase (74: 86). After losing their opening game, they won twice against the University of Debrecen (Hungary) with 68:66 and against Turin Polytechnic (Italy) with 86:54, thus qualifying for the quarter-finals and securing a place in the top half of the field.




The quarter-finals saw a reunion with the strong team from the University of Bologna (Italy), with whom they had already fought exciting duels at last year's EUG in Lodz (Poland). This year, the task was too great and Bologna beat the KIT team 54:83. The boys from Bologna were to remain unbeaten in the rest of the tournament and thus deservedly became European champions.




After further games against the University of Split (Croatia | lost 73:80) and the University of Liège (Belgium | did not compete), our basketball players achieved 8th place, which was also an improvement on last year's 10th place at the EUG.




The organization on the part of the EUSA was very successful and gave the team the opportunity not only to play basketball at a challenging international level, but also to come into contact with students from all over Europe and experience the culture of Portugal. The different playing styles of the individual nations and universities resulted in a large pool from which a lot of experience could be gained. All in all, it was another great experience for the KIT basketball giants.