DHM Ultimate Frisbee: Karlsruhe is record champion!
At the German University Championships in Ultimate in Bayreuth, the WG Karlsruhe was able to win the title of University Champion in a field of 30 teams.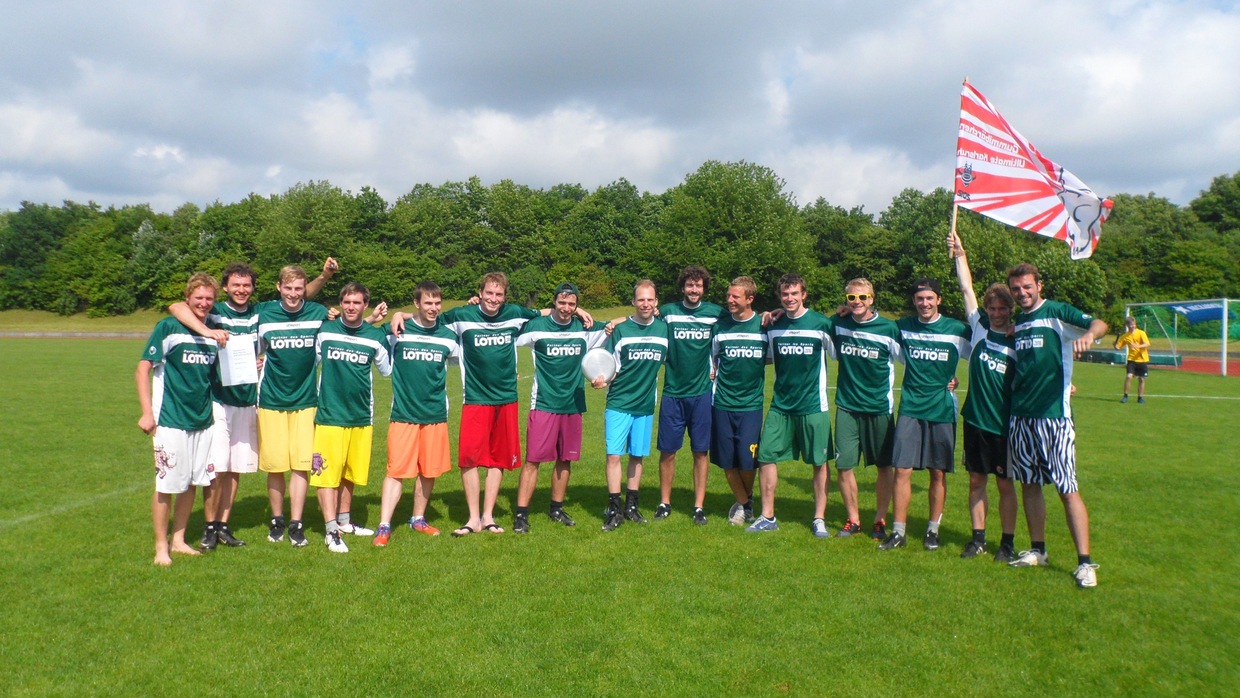 Already the early course of the tournament made it clear that the WG Karlsruhe entered the tournament with great ambitions. Thus, the group phase was contested sovereign with high victories. The Karlsruhe team also won the round of 16 against the team from Freiburg.

On Sunday morning, the quarter-final against the defending champions from Göttingen took place. Here, the WG had a hard time at first and there was an open exchange of blows. Only after some time did the WG find the right means to come up against the Göttingen team and were finally able to win 11:7.
The semi-final was then played against Dresden. This match was also very close, which made the tempers get hotter. Nevertheless, this did not diminish the otherwise good atmosphere between the teams. In the end, the large Karlsruhe squad played a decisive role in the very physical game. So the WG won with 11:8 and entered the final.

Unfortunately, after the semifinals, a thunderstorm upset the otherwise smooth course of the tournament. The thunderstorm with heavy rain made most of the grass fields unplayable, so it was decided to play only the final. The final itself then took place again in the best weather conditions.
In the last match of the day, the team from Würzburg and the WG Karlsruhe faced each other. Right from the start it was clear that it was a game of equals. So the points were shared until halftime with a score of 7:6 for Karlsruhe. Only starting from the half time the tactics of the Karlsruher went better on. This resulted in good moves. Also the experience of the Karlsruhe team, which was equipped with several current and former national players, tipped the scales in the end. The final score of the match was 11:8 for Karlsruhe.

With this title, WG Karlsruhe wins the university championship in Ultimate for the sixth time. This makes WG Karlsruhe the record champion ahead of Aachen with 5 titles.