KIT Students are Successful at DHM Taekwondo
From June 15-16, 2013, the German University Taekwondo Championships will take place in Heidelberg. Six KIT students take part in the full contact individual championships. In the category B a 1st and a 3rd place are achieved.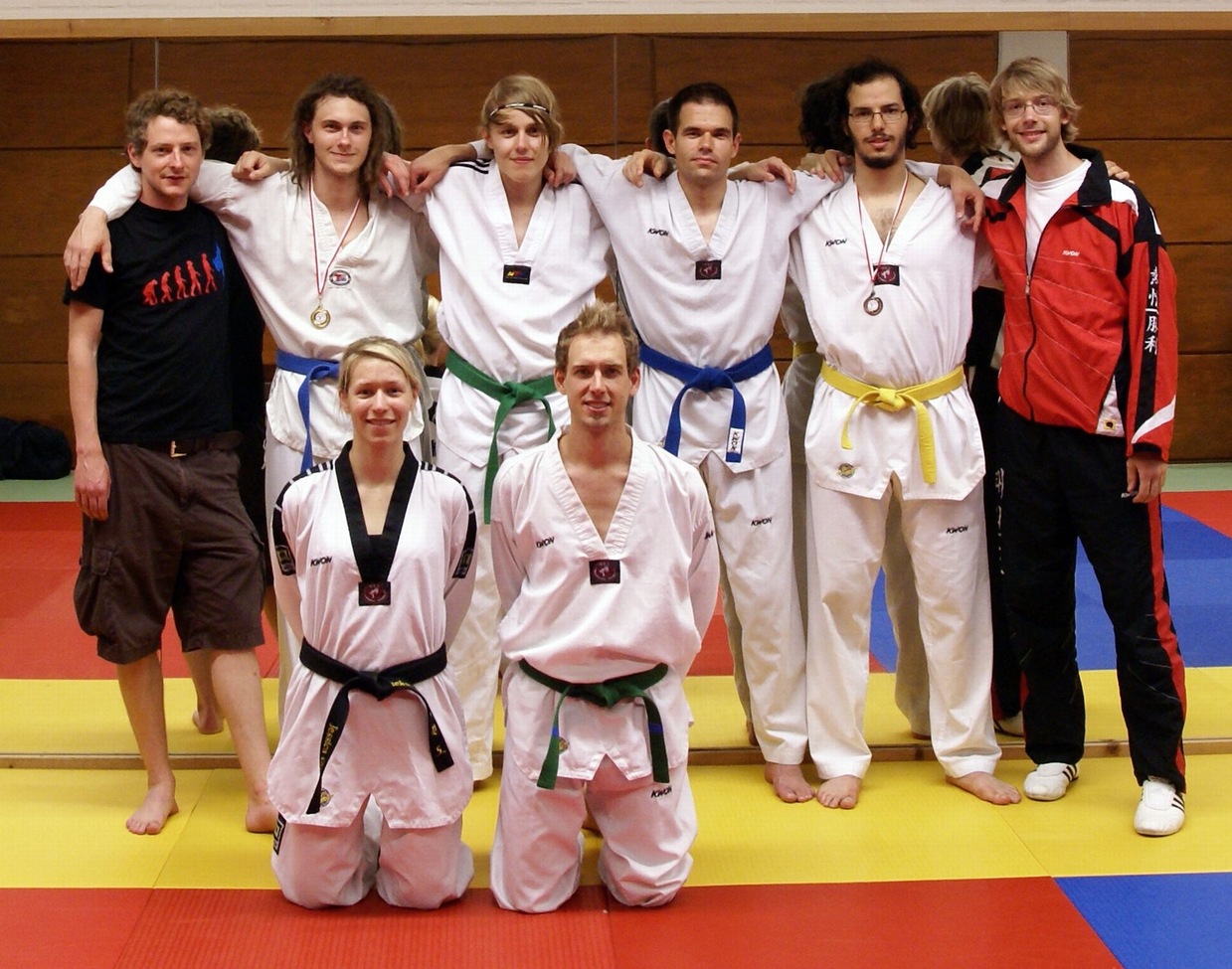 Four KIT starters are newcomers at the tournament. They start their Taekwondo career (more or less) at KIT and prepare for the tournament in the university sports with Jessica Gromer (computer science) and Robert Plasa (architecture): Gregor Stachoviak (Computer Science), Karim Mnasri (Physics), Oskari Pakari (Physics) and Sa-scha Lutz (Electrical Engineering).

Training content in university sports includes technical exercises, conditioning exercises and practice fights, as well as various tactical considerations and behavioral patterns. The main goal of the training with a view to the first tournament participation is not to get hit in the head, as well as to recognize head-hit opportunities and to use them themselves.
Jessica Gromer also competes at the DHM herself and is coached by her club colleague Rene Seeland from TKD Pfinztal.
Kai Kleindienst (physics) trains in the sports school Kwak in Karlsruhe and is coached by his training mate Simon Frettlöh (former university trainer and graduate of the University of Karlsruhe).


Short rule overview:
At the DHM there is a division into category B (beginners) and A (professionals). The fights are 2x2 minutes (with 30 seconds break) and the finals 3x1,5 minutes. Only the winners advance (KO system). Victory either by points or by KO. Points are scored by kicks and punches. Upper body kicks give 1 point and head kicks (only kicks are allowed here) give 3 points. Twisted kicks give one point more each. After a hit, fighting continues directly (no point-stop system) Throwing, pushing and pulling is forbidden. Hits to the head are awarded by judges, hits to the electronic vests on the upper body must exceed a hit level to score. The opponents wear different protective clothing.

Our conclusion:
We will remember an exciting day where fighters and coaches alike learned a lot.
Whether with or without placement, everyone can be proud of their performance and the motivation for further tournaments has increased for all participants after the DHM.
Thanks to our friends in Heidelberg, who made this great tournament possible.
We think the DHM is, with the two performance classes (category A and B) and its friendly atmosphere, a super platform especially for athletes who come into (full) contact with Taekwondo only in the university. And who knows, next year there might be a group of poomsae runners as well?
We are also especially looking forward to the continuation of the friendship trainings with the university sports groups Heidelberg and Konstanz.
Results at a glance:
Pl.

Athlete (Name, First name)

Discipline

Performance data / Result

Remark




Gromer, Jessica

Full contact ladies -57kg

Category A

0:12

Coach: Rene Seeland

Competitors: 7

1.

Kleindienst, Kai

Full contact men +80kg

Category B

10:1; 1:0; 20:9; 12:0

Coach: Simon Frettlöh

Competitors: 12




Lutz, Sascha

Full contact men -68kg

Category B

2:16

Coach: Robert Plasa

Competitors: 10

3.

Mnasri, Karim

Full contact men +80kg

Category B

1:0; 9:1; 11:16

Coach: Robert Plasa

Competitors: 12




Pakari, Oskari

Full contact men -80kg

Category B

10:1; 4:9

Coach: Robert Plasa

Competitors: 16




Stachoviak, Gregor

Full contact men -80kg

Category B

8:16

Coach: Robert Plasa

Competitors: 16