KIT fighters at the DHM Karate in Wiesbaden
KIT fighters at the DHM Karate in Wiesbaden
On 17.5 the annual German University Championships in Karate took place in Wiesbaden. The KIT was also at the start with the Kampfgemeinschaft Karlsruhe.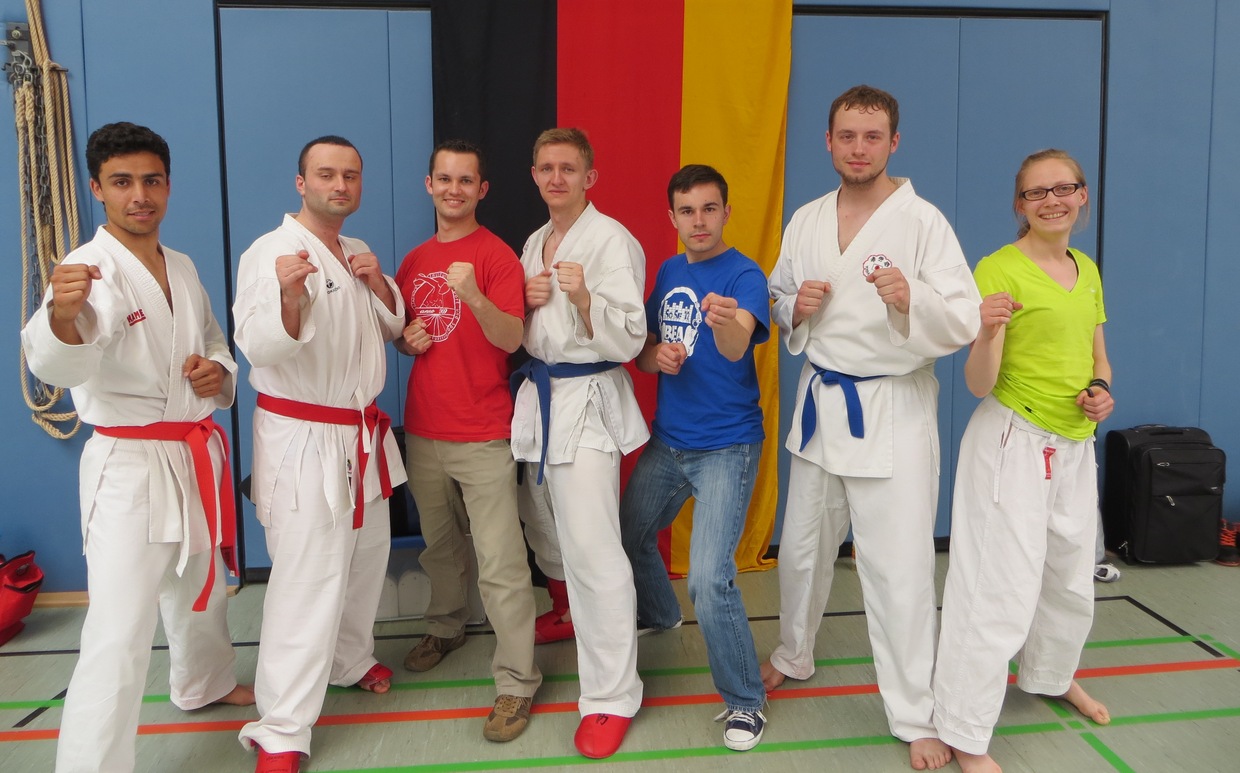 First Christopher Mack started in the upper level and Thomas Deppisch in the lower level in Kata. Unfortunately, Christopher was not lucky in the draw and he was eliminated in the 1st round against a former national squad athlete in the 1st round, who unfortunately could not qualify for the final. Thus also no consolation round for Christopher.Unfortunately, Thomas also lost in the 1st round.
Shortly thereafter it was the turn of Kumite. Here the fight community was more strongly occupied. Vasilije Stekovic, Hannes Weinhold, Sami Maliha and Annika Weis started in Kumite in the upper level. The Vassilij and Hannes in the weight class and the all category and Sami Annika only their weight class. Annika was lucky with the draw and already after the 1st fight it was clear that she has the 3rd place safe. Unfortunately, she hurt her shoulder and so the joy of the good placement was somewhat clouded.For the boys it did not go so well. Sami could not convince the judges and lost his first fight without a chance for the consolation round. Vassilij did better, but again it was not enough for the next round. Hannes also lost the first fight in the weight class.

In the weight class he lost in the first round, but his opponent was able to win through to the final and thus Hannes came into the consolation round. He won the first fight confidently and so it was in the following fight for 3rd place. Here he lost clearly against the fighter from Stuttgart with 6:3. So it means 5th place for Hannes Weinhold.Also in the team started the KG Karlsruhe and one made oneself justified hopes finally one had moved last year into the final, however the luck was not favored the fighters, and also here the Karlsruhe lost in the first round. Against the later 3rd place.
Thorsten Beuth and Thomas Deppisch started in the Kumite lower level. Thomas was first in line and won his first fight safely. Unfortunately, the next opponent was much stronger and it was not quite enough for the next round.Thorsten contested his first tournament on this day. With clean techniques and great will he fought his way through the rounds. In the semifinals waited once again difficult opponent but here too he kept the upper hand with clean counters. So Thorsten moved into the lower level kumite final of the DHM 2014.Unfortunately, an opponent who already had a little more experience was waiting here. In addition, the day had already consumed very much on the forces of Thorsten. So it was in the end but still an excellent 2nd place for Thorsten at his first DHM.