Successful participation at the DHM Badminton
After a superior preliminary round, the Karlsruhe team reached the final round for the second time in a row and thus the semifinals of the team competition, which was held in Tübingen.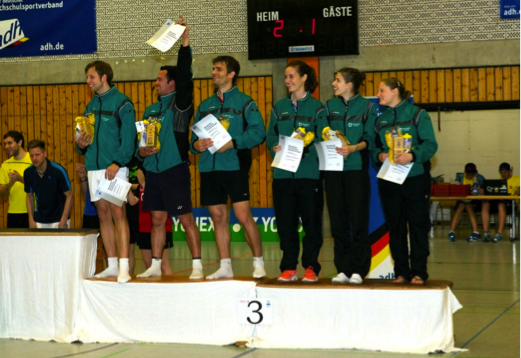 On Thursday, May 29, the semifinals were played against WG Hamburg. Lucas Bednorsch could win both matches in singles and doubles with partner Konstantin Kron. After losing the mixed and women's doubles, a very exciting women's singles was to be expected. After a hard fight Stephanie Romen unfortunately lost the match, so that Karlsruhe just missed the entry into the final. However, the match for third place against the well-known opponent of the University of Freiburg could be won sovereignly and thus a great third place could be achieved!

With a university sports group of 15 participants, Karlsruhe provided a large share of players in this year's individual competition. Both Dorothee Schumacher and Julia Reitz as well as Stephanie Romen with playing partner Nadine Kuhnert had to admit defeat to the later tournament winners in the quarter and semi-finals of the women's doubles respectively. On the other hand Stephanie Romen reached the final in the women's singles. However, she lost in two hard-fought sets against Lisa Kaminsky. Stephanie Romen was the most successful participant of the team from Karlsruhe with another narrowly missed final in the mixed with her partner Lucas Bednorsch.


In the Men's Doubles Lucas Bednorsch and Rasmus Zander reached the quarterfinals, but Lucas Bednorsch played a stunning match against the well-traveled New Zealander Asher Richardson, after the first semi-final of a Karlsruhe player. After losing the first set, Lucas came into the match better in the second set and forced his opponent into the all-decisive third set. Unfortunately, Richardson was able to play his size to the full and won the semifinal with 21-12, 15-21 and 21-13 and later also the final.


Overall, the participation in this year's DHM was a successful and very successful tournament for our Karlsruhe uniteam.