KIT Badminton Team Just Misses Final Four
This year the preliminary round of the team competition of the Badminton University Championships took place on 04.11.2015 in Freiburg/Emmendingen.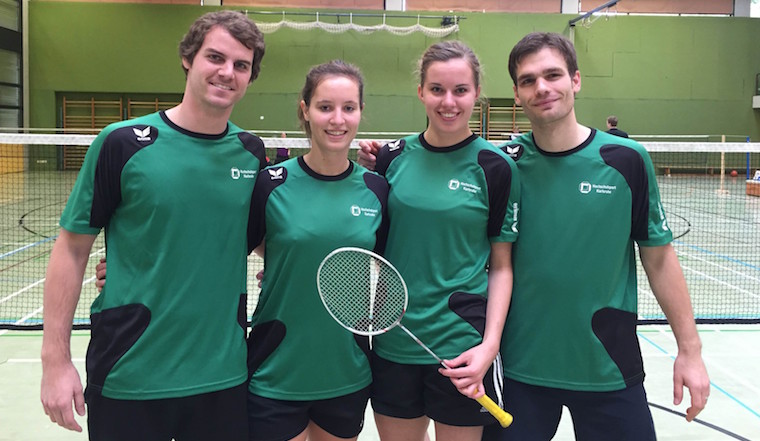 First, the WG Karlsruhe competed against the WG Freiburg. As in the last years, it should be a close match. The men Konstantin Kron and Michael Weyand played together for the first time and had to admit defeat to the Freiburg pairing. The ladies from Karlsruhe could equalize after three sets. After the men's singles and the mixed, the score was 2:2 and so the final women's singles had to decide the match. After some initial difficulties, Franziska Willenbacher won this match in two sets and the first victory for the Karlsruhe team was secured. The next match was against the students from Bayreuth. And here, too, the Karlsruhe team remained true to its line. The women around Stephanie Vogel and Franziska Willenbacher won the women's doubles, the women's singles and the mixed with Konstantin Kron. The men, on the other hand, lost their doubles and singles. Since Regensburg also won both matches against Bayreuth and Freiburg, the last match was a final.
Final against Regensburg
Regensburg had arrived with second league and regional league players and was therefore the favorite in the match. But the Karlsruhe team did not want to admit defeat so easily. The men's doubles showed their best performance of the day, but unfortunately it was not enough to win. However, the ladies could be relied upon on this day. With a strong fighting performance they won their match in three sets. After Michael surprisingly won his men's singles, the Karlsruhe team only needed one more win out of two matches. But unfortunately it was not enough this year. After many exhausting matches before, the mixed Kron/Vogel as well as F. Willenbacher in the singles had to admit defeat in two sets each. However, this does not diminish the performance of the Karlsruhe team, which showed excellent matches. Congratulations to the University of Regensburg for reaching the Final Four, and one or the other Karlsruhe player will certainly be present at the Individual Championships in Münster next year.
Many thanks to the organizer of the WG Freiburg for the smooth course.