KIT Golfers Secure Bronze Rank at DHM
KIT Golfers Secure Bronze Rank at DHM
On October 24 and 25, this year's DHM Golf took place again at WINSTONGolf near Schwerin, organized by the University of Lüneburg.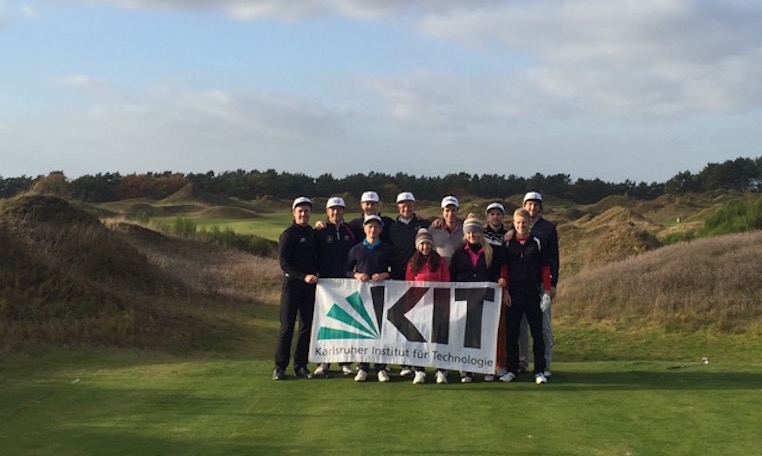 With a total of eleven players the WG Karlsruhe was at the start. Nine men were entered for the men's singles competition and two women for the women's competition. In addition, the Karlsruhe team competed with three teams in the team competition, in which a maximum of four players contribute to the team result with their individual results, whereby there is one strike result per day.

After the KIT athletes were able to win both the men's individual title and the title of the best teams at the home game at GC Johannesthal two years ago at the DHM 2013 and were also able to place two teams on the podium in the team ranking last year, the result this year was not quite as successful. Nevertheless, some very good results were achieved.
In the women's competition, Saskia Göhrig finished in 4th place with rounds of 90 and 80 strokes and a total score of 26 over par, narrowly missing out on the medal places. She thus achieved the best result by a Karlsruhe player in the women's competition for many years. The victory went to Anna-Lena Krämer from the TU Munich.

Place on the podium

In the men's competition, things still looked very promising after the first day, as Julian Schinnenburg was able to earn the shared lead with a 71. Unfortunately, he could not confirm this good form on the second day and fell back with a round of 80 to the nevertheless very good - shared 5th place. Nicholas Inderthal, also from the TU Munich, won after a three-round play-off. Worth mentioning are Leonard Adolphs (12), Marco Heyden (14) and Stephan Balz (18), who also achieved good rankings.
In the team ranking, however, it was finally enough for a place on the podium. Team WG Karlsruhe I, consisting of the four aforementioned men, was able to secure bronze place after two days with a team score of 26 over par. TU Munich also came out on top here in the end, completing the hat trick.

We are already looking forward to next year and hope to be able to attack the front again.