KIT athlete wins bronze at EUC Taekwondo
KIT athlete wins bronze at EUC Taekwondo
At last year's European Student Taekwondo Championships, held Nov. 10-13 in Opatjia, Croatia, Kai Raik Kleindienst competed against world-class fighters and brought bronze to Germany.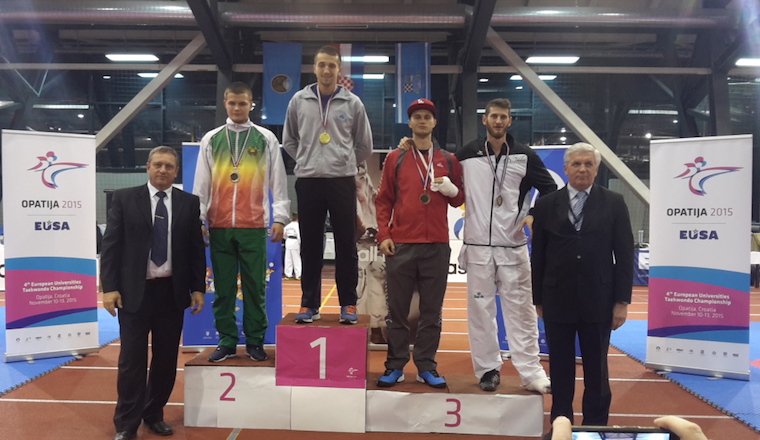 The European University Taekwondo Championships in Croatia were the fourth event of its kind and the first time that a KIT athlete participated. Kai Kleindienst from the General University Sports (ADH) was nominated due to his outstanding performance at the German University Championships (DHM) 2015, where he won silver. For Kleindienst, the nomination made his dream of competing in an international tournament come true. To prepare for such a tournament, he trained under the guidance of KIT coach Robert Plasa as well as the coach of his club, Marek Langer (Kwak Kum Sik). In order to be well prepared physically and mentally, independent training was also on the daily schedule in addition to the usual training sessions.

Accreditation was scheduled for the first day of the four-day event. After the weigh-in on the second day, the lists of participants were announced. Here it became apparent that the competition was greater than expected. Fighters from the upper world rankings participated in all weight classes. In contrast to the usual knockout system in Taekwondo, there was a round robin system. That is, everyone fights against everyone and at the end, similar to the group stage of major soccer tournaments, the placement is determined based on the results. Each fight went over three rounds of 1:30 minutes each.

Bad luck with injuries in the first fight

In his first fight, Kai Kleindienst had to face this year's world championship participant from Belarus, Kanstantsin Yarmak. Here Kleindienst made a strong start and reached 1:0 already in the first round. He was able to keep this result until the third round, when he got injured. As a result, he did not manage to keep the lead and had to settle for a 1:5 defeat. With the injury Kai Kleindienst had to fight two more fights. Armin Gredic, the European Championship participant from Bosnia and Herzegovina, and the Austrian Philipp Schmidmayr were waiting for him next. With the injury it became more difficult to reach the front places. Nevertheless, Kai Kleindienst made it to the podium and took third place.

Remarkable beside the sporty was also the whole supporting program. The participants stayed in a 3-star hotel on the Adriatic coast. In addition, there were the well-organized shuttle buses to the competitions as well as to the events, such as the opening ceremony. At the opening ceremony, each university entered with its own flag. The speeches of the responsible persons were rounded off by a dance performance of a local group. There was a friendly atmosphere and through the multinational diversity of the participants many new contacts and intercultural bonds could be established.