KIT Runners Convince at DHM Orientation Run
KIT Runners Convince at DHM Orientation Run
At this year's German University Championships in orienteering, the Karlsruhe universities were only represented by a small team.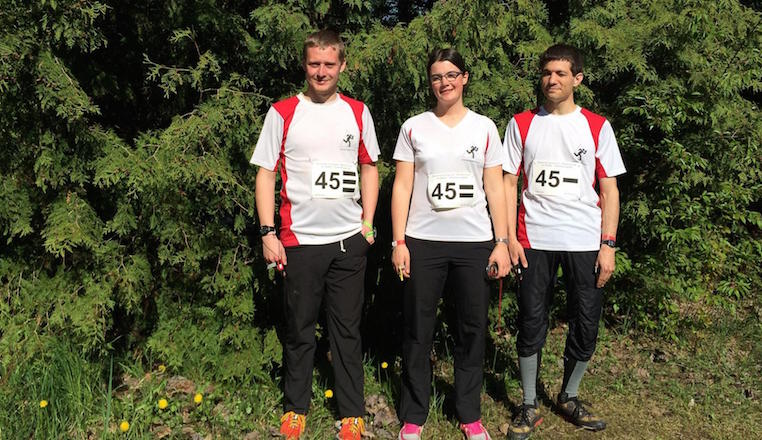 Thus, only two students of the KIT and one graduate of the HSTW accepted the invitation of the adh and the TU Berlin, respectively, over Ascension Day, which hosted the DHM together with the experienced Berlin association IHW Alex.

As usual, the first event on Thursday was the individual race. In the men's championship class, 12.3 km as the crow flies with 270 meters of altitude had to be mastered. From Karlsruhe's point of view, Thomas Sigle coped best with this task and was able to secure a respectable 15th place in a very strong field - including several runners from the national squad. For Pierre Finantz, unfortunately, the technology was his undoing: Unfortunately, neither he nor the organizer had noticed before the race that his SI chip was a limited model, which only had memory for 30 control posts - while on the long course, however, 34 posts had to be completed! So, unfortunately, he could not provide the required proof for his correct run and therefore had to be taken out of the scoring with "false stamp".
Johanna Ritzau started in the category "Cup A" with 6.8 km as the crow flies and 140 meters of altitude and finished there with a narrow gap in 6th place. All three athletes from Karlsruhe were enthusiastic about the terrain around the Waltersberge inland dune after their run and raved about a very runnable, "swept" pine forest with fine elevation.

6th place in the relay race

The relay race on Friday did not take place on the urban terrain of a university campus, as is usually the case at the DHM-OL, but, like the individual race, again in the Märkische Wälder, which presented a certain technical challenge.

The experienced relay team of the Wettkampf-Gemeinschaft Karlsruhe in the line-up Sigle-Ritzau-Finantz did not come through without any mistakes, but could still achieve a good 6th place in the somewhat poorly runnable terrain. The winner of the men's relay was the University of Paderborn; the women's relay was won by the TU Dresden.
The weather showed itself from its best side during the whole event. With bright sunshine and early summer temperatures, it was even tempting to cool off in the Waldsee after the race.

To make the long journey worthwhile, the runners from Karlsruhe took part in the Berlin-Brandenburg state championship over the long distance on Saturday, which took place in the adjacent northern forest of the Rauner Berge. So they could once again enjoy the forests of the Mark Brandenburg.