Indoor DHM Athletics in Frankfurt
The German Indoor University Championships took place this year as usual on the first Wednesday in February in Frankfurt-Kalbach. A record-breaking 21 athletes from Karlsruhe went to the championships on 06.02.2019.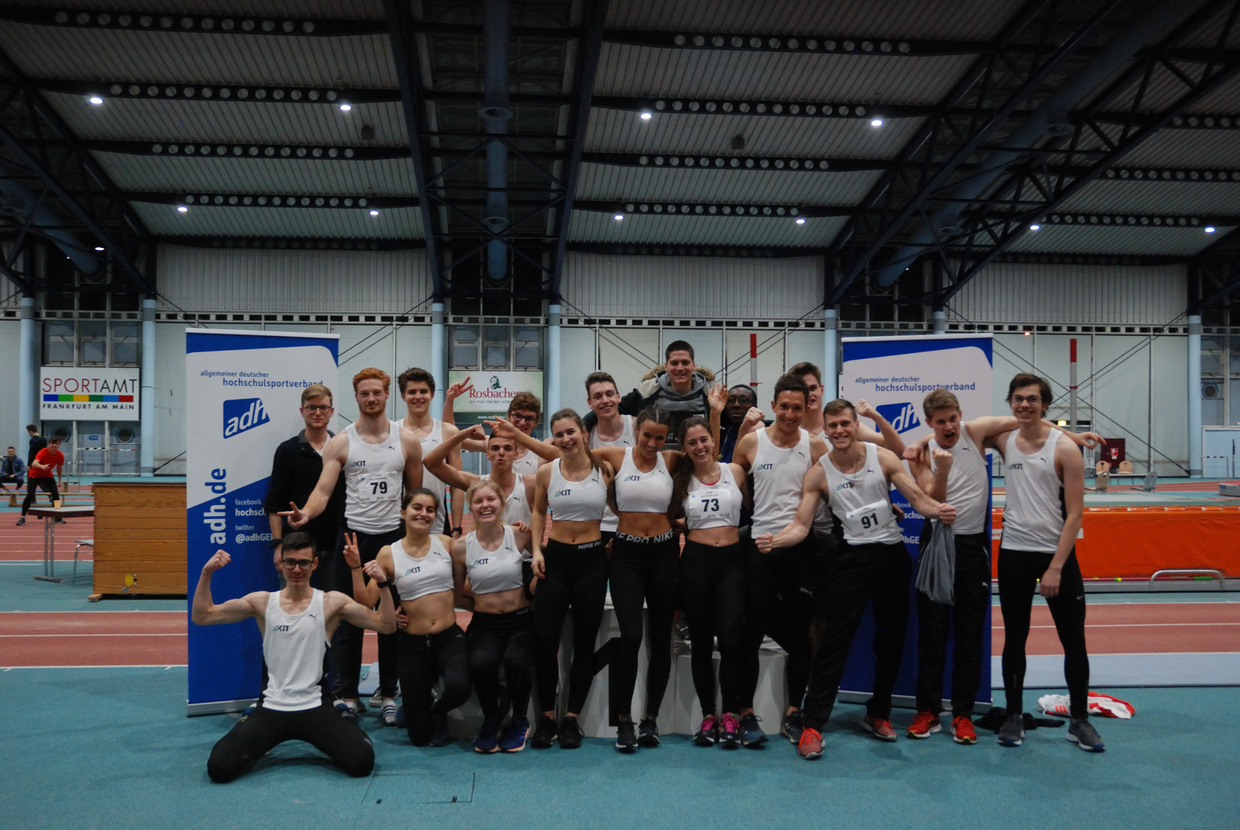 With a total of 300 registered athletes in 13 disciplines, the KIT athletes were able to achieve six podium places in a great atmosphere.
The start was made by the sprinters over 60m, where Sarah Krems in 7.85 sec. and Tabea Müller with a season's best of 7.82 sec. were two sprinters who made it to the B-finals, where they reached 10th and 16th place. In the final run Sarah reached a good 7.81 sec. and thus only just missed her personal best. This feat was achieved by Sonja Lawson, who set a new best time with 8.09sec. Johanna Ossmann was still not satisfied with her 8.48 sec.
Of the seven male 60m starters of KIT, Wendelin Wäcker reached the B-final with 7.16 sec, where he remained in 7.26 sec, however, somewhat below his possibilities. Kevin Nawoha (7.33 sec.), Lukas Zimmermann (7.35 sec.), Phillip Herderich (7.43 sec.), Artur Kadnikov (7.53 sec.) and Manuel Haag (7.66 sec.) were ranked between 23rd and 37th.
Over the 200m there were also very appealing results. Marvin Göllner unfortunately failed to reach the 23-second mark and achieved 23.05 sec, Wendelin Wäcker made a very courageous race, which finally brought him 5th place with a good 22.24sec. Philipp Herderich sprinted to 18th place in 23.57 sec., Arthur Kadnikov took 22nd place with 24.35 sec. and Manuel Haag finished in 24th place with 24.67 sec. 26th place.
In the women's race, Sonja Lawson (26.67 sec. 10th place) and Johanna Ossmann (27.91 sec. 16th place) started for KIT. Tabea Müller was not satisfied with the achieved 26.04 sec. and rank 9.
With 7.19 meters in the long jump Kevin Nwaoha reached the third place and could defend his place of the last two years. Joschka Feilhauer unfortunately did not have a valid attempt and was eliminated visibly annoyed after three jumps. In the women's event, Sonja Lawson flew to 4.83 meters and took 10th place.
In the men's 800m, there was silver and bronze for KIT: Pascal Kleyer and Holger Körner fought together against the later winner Lukas Abele and were in the lead from the beginning. Lukas Abele finally won the race very narrowly ahead of Pascal Kleyer, who finished in 1:52.07 min ahead of Holger Körner in 1:52.92 min.
The relay teams represented the final point. In the men's event, traditionally an Olympic relay of 800-200-200-400m is run, in which five relays started. Alexander Kessler over the 800m, Wendelin Waecker and Marvin Göllner over the 200m brought the relay into the lead and sent final runner Nils Kruse on his way over the 400m. However, Nils could not keep the strong final runner of the University of Mainz in check and so the quartet was happy about the silver place on the podium achieved with 3:35,03 min.
The success was completed by the 2nd relay team of the Karlsruhe team, consisting of Yannick Probst, Philipp Herderich, Lukas Zimmermann and Holger Körner, who reached the bronze place in 3:38,52 min.
The women start over the relay distance 200m-400m-200m. This year we started with two women's relays. In two time heats Sarah Krems, Eva Fiserová and Sonja Lawson ran with 1:55,94 on 6th place and the second relay team from Karlsruhe with Johanna Ossmann, Myriam Perrousset and Elena Fantino with 2:08,33 on 10th place.