DHM Fencing in Heidelberg
This year's university championships in team fencing took place in Heidelberg on June 22 and 23. As in previous years, the WG Karlsruhe was able to return home with two bronze medals.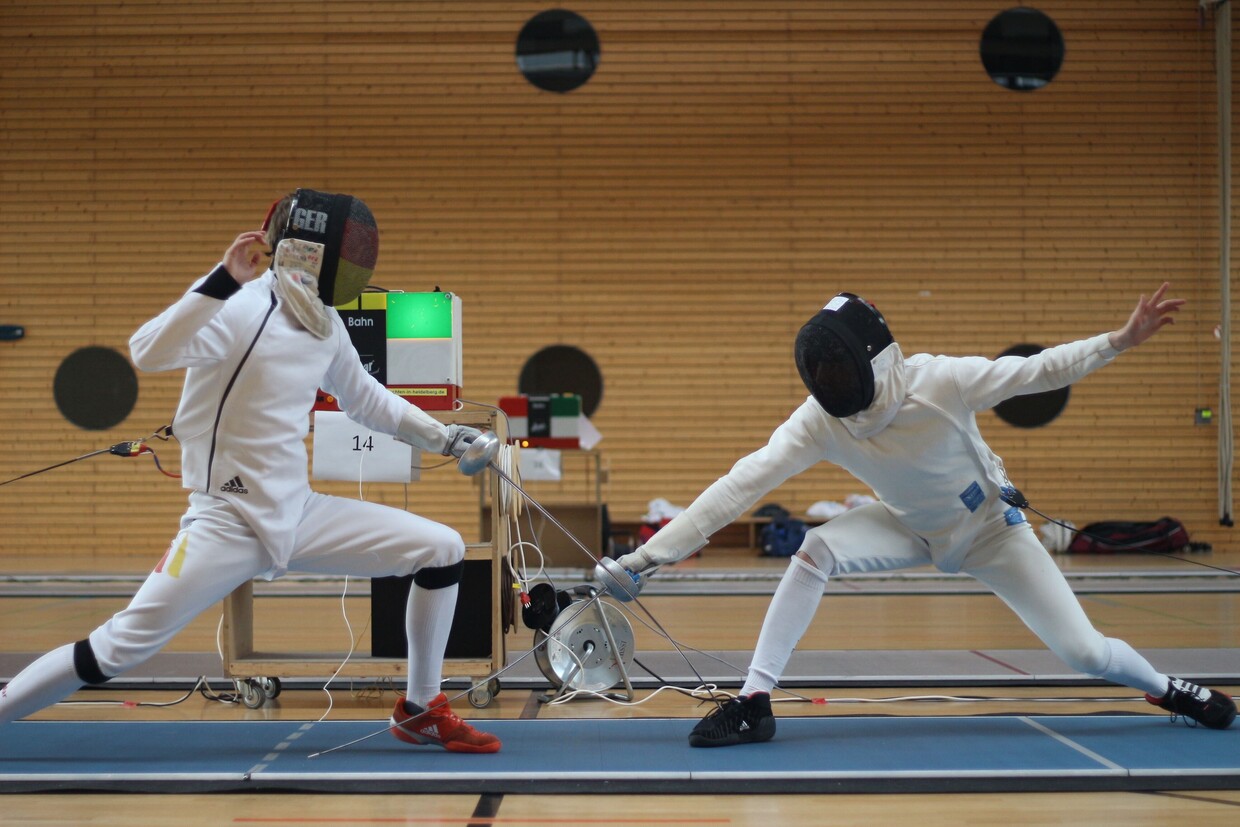 Successful team championships for Karlsruhe fencers
Saturday started with the competitions in men's epee. A total of 31 teams were at the start. Together with Freiburg and Heidelberg, Karlsruhe had the most teams in this discipline. Through a preliminary round without defeat, team KA1 was able to get a very good starting position for the knockout fights. Their journey was only stopped in the semi-finals by the fencers from Munich, who were outstanding on this day. In the end, the team consisting of Fabian Lansche, Marton Kovacs and Fabian Heuer won the bronze medal. Team KA2 unfortunately could not win in the round of 16 and failed against the strong fencers from Bonn. In the end the 11th place. Team KA3 achieved a solid 19th place.
In the men's sabre Karlsruhe was represented by two teams for the first time. Unfortunately, both lost unfortunate fights in the preliminary round. Accordingly, the starting position for the knockout was not very good. In the end, the 6th and the 7th place.
On Sunday the competitions in men's foil and women's épée were held. The experienced team around Zita Zippelius, Ece Yalcin and Alina Heckel, which competed in this formation already for the third time, got a great starting position in the preliminary round with 3 high wins. After rank 3 and 2 in the previous years it should become this time again the 3rd place. In the semifinals they lost to the fencers from Aachen.
In the men's foil Team KA1 showed a good performance, but unfortunately lost the first fencing match in the preliminary round. Therefore, a difficult way was ahead in the knockout. In the round of sixteen, the team lost against Kaiserslautern, who later came third, after some incomprehensible decisions by the umpire. The final result was an 11th place. Team KA2 had the disadvantage of a smaller preliminary round and was eliminated in the round of the last 32, resulting in an 18th place.
The teams in the overview:
Men's epee 1: Fabian Lansche, Marton Kovacs, Fabian Heuer
Men's epee 2: Johannes Rosenberger, Laurin Nießner, Julian Peudevin
Men's epee 3: Felix Spanier, Simon Liehmann, Etienne Martin, Con Vu
Men's sabre 1: Andreas Frölich, Benedikt Haupt, Arnaud Krakowski
Men's sabre 2: Tobias Ortelt, Erich Brenütz, Johannes Fries
Women's rapier 1: Zita Zippelius, Ece Yalcin, Heckel Alina
Men's foil 1: Matthias Wolsfeld, Jan Janetzke, Johannes Rosenberger, Lansche, Fabian
Men's foil 2: Hauke Jimenez Reichow, Boda Yang, Etienne Goldscheid
Results: https://www.dartagnan.live/turniere/DHMM-2019/de/index.html