DHM Cross-Country Marathon in Titmaringhausen
On Saturday, September 21, the German University Championships in the mountain bike discipline Cross-Country Marathon (XCM) took place as part of the 3-Valley Marathon in Titmaringhausen.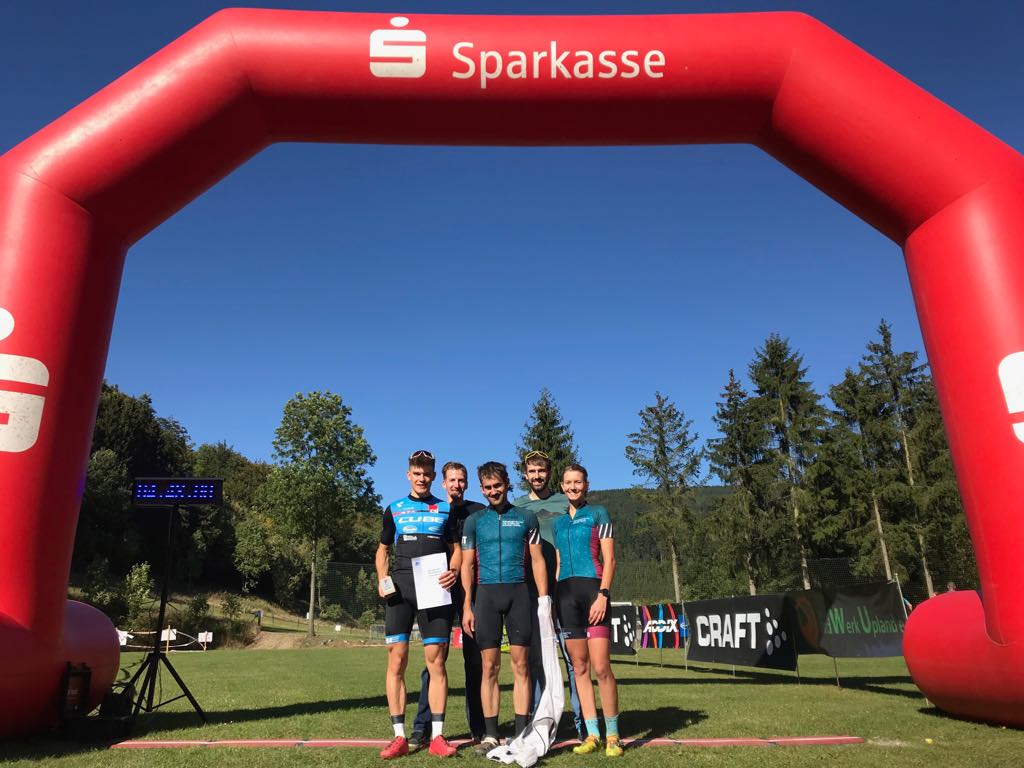 Luis Neff is German university champion 2019!
We from KIT traveled with five athletes. Petra Schumacher, Luis Neff and Pablo Schmid started at the DHM in the license class (long distance: 86 km, 2169 vertical meters) and Thomas Koch as well as Simon Decker at the so-called adh cup in the hobby class (middle distance: 59 km, 1505 vertical meters).
Already at the start number distribution the evening before, we were amazed at the idyllic setting: the participants met in a dead-end street at the edge of a sports field, near which sheep were grazing. The total of 150 starters almost exceeded the population of the venue Titmaringhausen.
The course included a 6.5 km start lap followed by two (medium distance) or three (long distance) laps of 26.5 km each. This was peppered with some single trails, which made the whole thing both a little more challenging and more fun. After a more or less slept through the night, it was then time for the licensed riders at 10 am on the long distance.
Petra Schumacher, who already has some racing experience in mountain biking, went a bit over her limits in the start lap and had to take it out a bit afterwards. Fortunately, she was able to find her rhythm again and finish a strong race in third place, losing only 2:30 minutes to the second-place finisher.
Our most experienced athlete, Luis Neff (already 15th at this year's U23 German XCM Championships), was able to shape the race from the start in the leading group. The size of this group fluctuated in between, but in the last lap Luis was able to break away from the competition and finished with more than three minutes ahead of the runner-up. This makes Luis Neff the German university champion 2019!
The third starter on the long distance was Pablo Schmid, who had a solid race by his standards. He reached the finish line in 9th place.
The two hobby class starters Thomas Koch and Simon Decker were sent to the middle distance at 10:15. They rode different tactics, Thomas took over at the beginning, Simon took it easier, at the end both finished within one minute on the 4th (Thomas) and 5th (Simon) places in the adh-cup.
The bottom line is two podium finishes at the DHM, including a DHM title by Luis Neff, as well as one and a half beautiful days together on and off the bike. We liked the intimate atmosphere of the small event compared to other marathons.
A special thanks to Luis' dad, who provided us with bottles and motivating words along the course.