Preliminary report EUC Rowing
Last year 2018, Karlsruhe University Sports qualified for the European University Championships, also called the European University Championships, in Jönköping, Sweden, in the men's eight and the women's lightweight double sculls.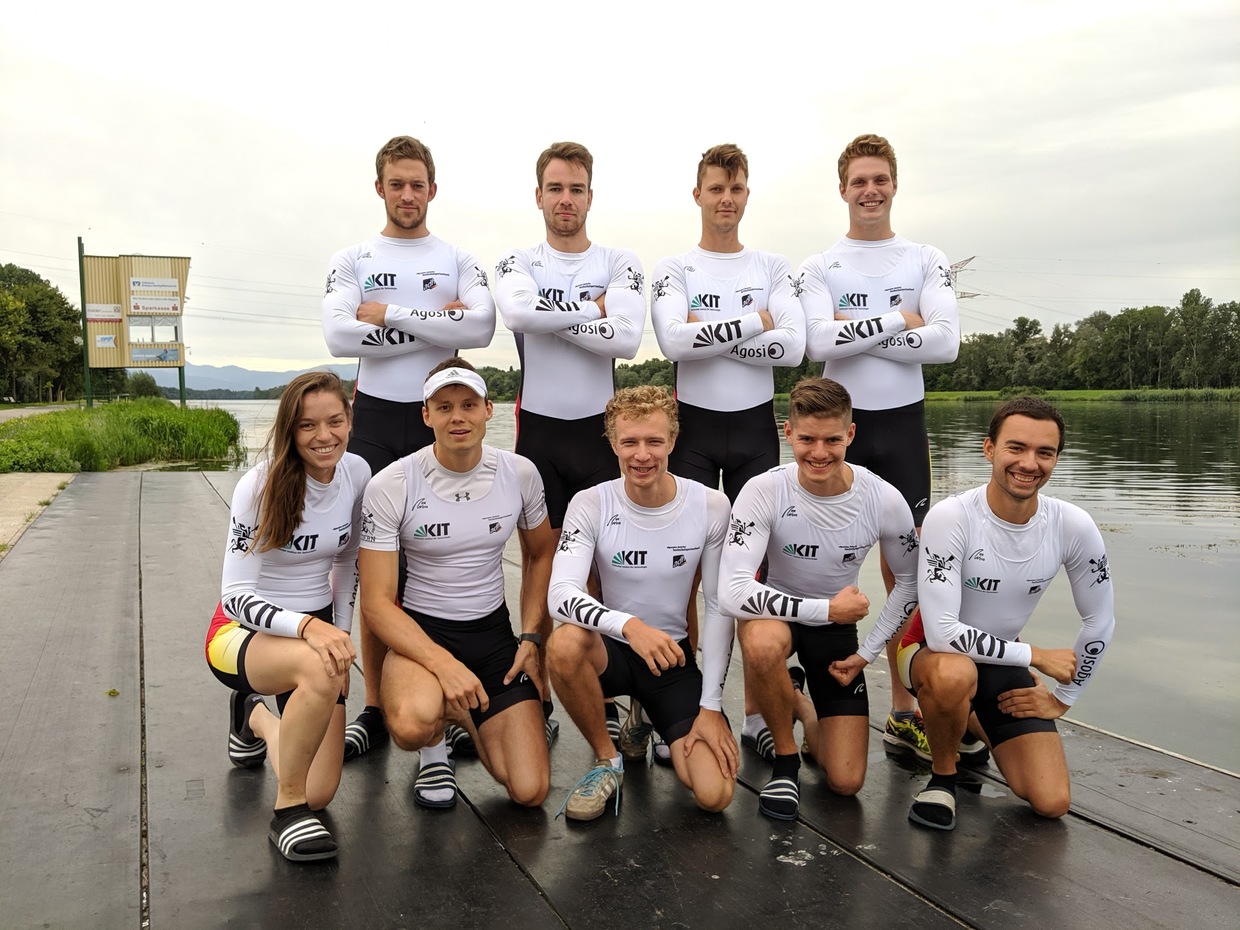 The selected crew of the men's eight consists of Rupert Pretzler (scarf position), Moritz Kopp, Lenz Kiefer, Jan Lukas Harder, Johann Fox, Simon Gessler, Adrian Elter, Adrian Seiler (bow position) and coxswain Linda Kromer. The lightweight women's double sculls is at least as strong with Luise Möller (stroke position) and Nina Öhlckers (bow position). Both boats will hold up the colors of Karlsruhe University Sports in Sweden at the beginning of September, 03.09 to 08.09.
Both boats worked meticulously on their physicality over the winter, whether in the weight room, on the ergometer, or in the rowing boat in freezing winter temperatures.... Throughout the season, the team proved itself rowing in many facets. In the men's double four and a four without with the focus on DHM have attended various regattas and competed successfully. In addition, Rupert Pretzler participated in all selection regattas of the U23 team in order to recommend himself for the national team.
Throughout July and August, the focus was on the two target boats for Sweden, so that as many kilometers as possible could be rowed together in the last eight weeks. With a final training weekend in Breisach, the eight around stroke Rupert Pretzler feels ready to let Lake Jönköping burn. The Karlsruhe team has not yet been able to gain experience in the men's eight at the EUC, as several fours have successfully competed at these championships in recent years. However, the men's eight as the showpiece boat is in a class of its own. It is therefore difficult to make a forecast for the upcoming championship.
In addition, it would be possible for athletes from national squads to participate in the championships, as they do not coincide with world championships this year. So the level could be much higher compared to previous years. Nevertheless, the goal of the eight is to participate in the final and, with a little luck, to win a medal. The situation is similar in the women's lightweight double sculls. In the last few years, no light women from Karlsruhe have competed, making it difficult to assess their performance against the competition. Nevertheless, the final is the clear goal and anything beyond that is definitely within the realm of possibilities.
All in all, the motivation and anticipation among the rowers from Karlsruhe is great. Especially because this time they are going to Sweden with such a big team of 11 athletes. Both boats are eager to compete in a thrilling final and to measure themselves against the other European universities and colleges.
Now we have to keep our fingers crossed and use the last weeks efficiently to be fit to the point.