Final Report EUC 2019 Rowing
Catch the feeling! Under this motto, 11 athletes from Karlsruhe competed at the European University Championships in Jönköping, Sweden, on the first weekend in September.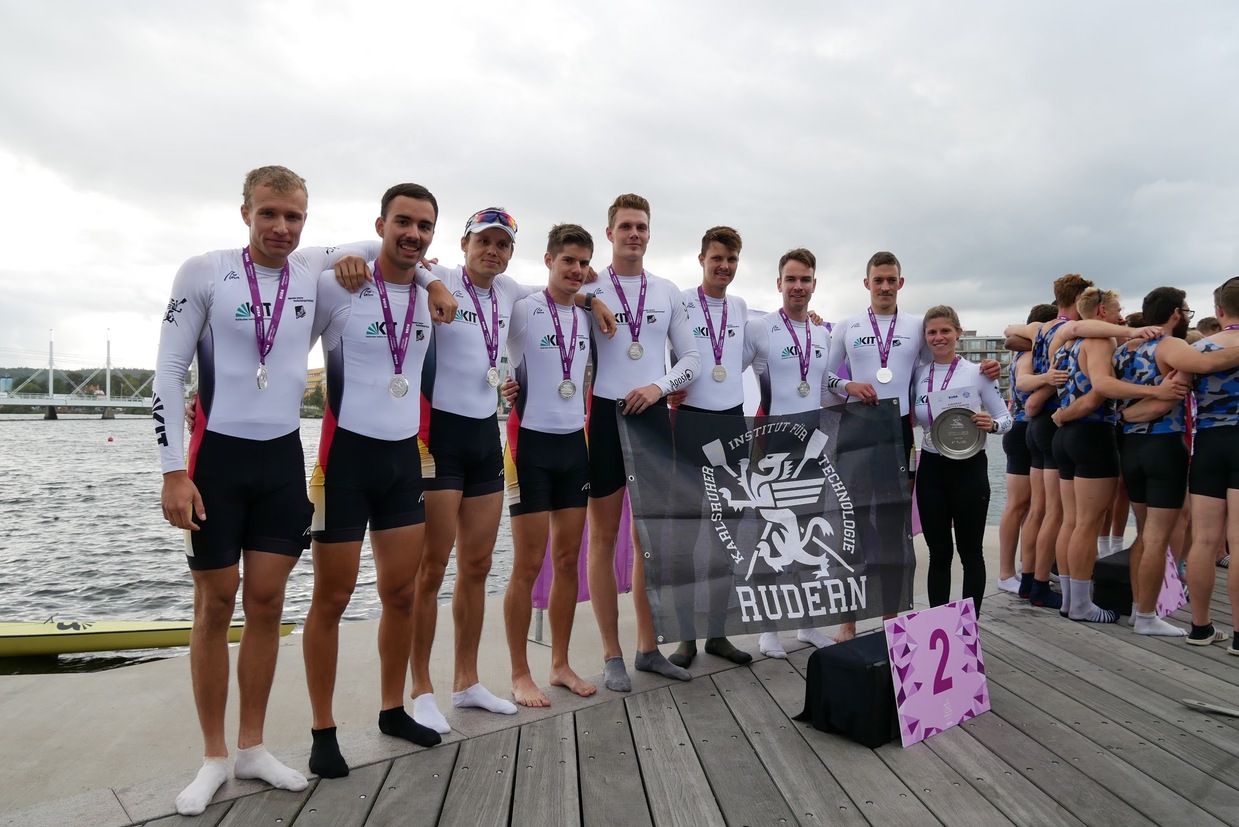 The lightweight women's double sculls with Luise Möller and Nina Öhlckers and the men's eight with Adrian Seiler, Jan-Lukas Harder, Adrian Elter, Johann Fox, Lenz Kiefer, Simon Gessler, Moritz Kopp, Rupert Pretzler and cox Linda Kromer started on the 1810 m long course on the Munksjön.
The journey to the event, in which a total of over 500 students from 21 countries and 85 universities took part, began for the Karlsruhe team already on Monday. While a part of the team took the direct flight, the rest of the team followed the boats of the southern German universities and had the opportunity to get in the mood for the afterparty and to admire the Oresund Bridge from the water during the ferry ride. After rigging, Tuesday and Wednesday were the first days to get to know the course and wind conditions. The already shortened 2000m course was shortened even more by a strong tailwind, but technically it was quite a challenge, which is why the results for the preliminary race on Thursday were very difficult to estimate for both boats.
The official entry ceremony, where all competing countries and universities as well as all organizers were introduced, initiated the start of the event on Wednesday evening. With a fire choreography to the anthem of the regatta, at the latest then the "feeling" had everyone under its spell.
The clear goal for both teams was to move directly into the A-final without a heat, which proved to be feasible. Both teams won their preliminary heat. Thus, on Friday, everyone was able to train again in a relaxed manner, to further develop the "feeling" at the grandstand and to prepare for the final.
First, finally, the light women in their rented boat from the Karlsruhe Rhine Club Alemannia went to the start in the final A. After a good start into the race, where they were able to break away first, the Dutch girls from Utrecht showed themselves technically cleaner and more powerful in the last 500m and finally made it just over the finish line first. However, the girls were also very happy about their silver medal, which they had not expected before the start of the event. One hour later the starting signal sounded again for Karlsruhe, where the men also won a strong silver medal in a very gripping race, in which no favorite was clearly recognizable until the end.
The last evening was then introduced with a formal dinner including a small show performance and aftermovie, followed by an exuberant afterparty.
The majority of the team then spent a well-deserved relaxing vacation in Sweden before heading the long way back to Karlsruhe.
Text: Nina Öhlckers