KIT triathletes win the title
KIT triathletes win the title
This year, a somewhat smaller delegation of KIT traveled to the DHM in Mönchengladbach on June 19, 2016.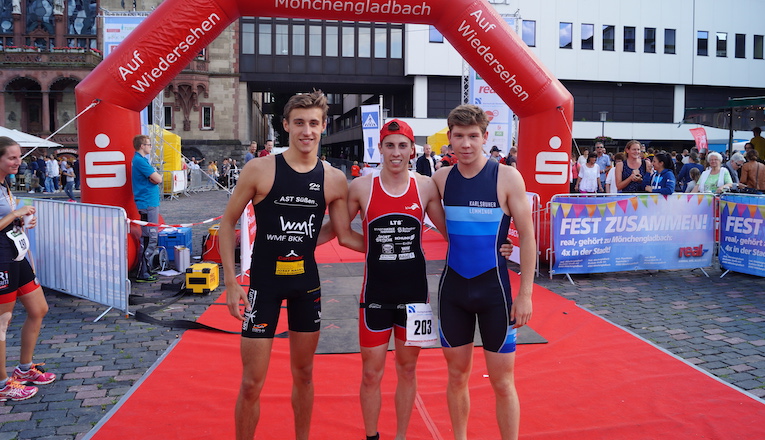 The special thing this year: The title of team champion was fought out in a separate race and not, as in previous years, by adding up the individual placings. This meant two starts in one day for the three boys. The winners of the individual competition were determined over the sprint distance (500/20/5). In the team race, three athletes from each team had to complete a shortened triathlon (200/8/2.5).
Punctually on Sunday at 10:00 o'clock the first start wave of the DHM went into the water. In this wave were the favorites for the title in the individual competition, among others starters from the 1st Triathlon Bundesliga. Hannes, Alex and Max were registered in the third starting wave, so there was no direct comparison with all athletes. Nevertheless, "attack" was announced from the beginning. After the swim, in the mobile pool on the market place of Rheydt, the boys from the fan city were on the places one, two and three of the starting group. As there was no slipstream on the bike, the three were only able to work together to a limited extent, but nevertheless came off the bike into the second transition area in the leading group of 4. The final run showed how well-balanced the KIT team was, as Max, Hannes and Alex were separated by only seven seconds at the finish. After anxiously waiting for the official results, it was clear that the three had won their run sovereignly, but had just missed the podium in the overall standings. Nevertheless, Max (4th place), Hannes (6th place) and Alex (9th place) are very satisfied with their placements, behind the winner Uli Hagmann.
Winner in the team ranking
In the afternoon, it was still necessary to wrest the victory in the team ranking from the permanent winner RWTH Aachen. Hannes Müller started for Team KIT. Hannes took the lead in the swim and the bike and started the run with only one chaser. With a narrow gap of 15 seconds to the third placed of the individual competition he handed over the relay chip to Alex. Alex was already able to break away from the only chaser in the swim and handed over to Max with a lead of almost two minutes over the teams from Münster, Heidelberg and Aachen. Max only had to bring this lead to the finish without a crash or defect. There was even time left on the last lap to enjoy the beautiful weather and the city panorama. With a considerable lead, the team from KIT secured the title of the German university champion in the team ahead of Heidelberg and Aachen.
Results:

4th place Max Fetzer Triathlon Individual
6th place Hannes Müller Triathlon Single
9th place Alexander Sutschet Triathlon Single
1st place Max Fetzer Triathlon Team Relay (Relay)
1st place Hannes Müller Triathlon Team Relay (Relay)
1st place Alexander Sutschet Triathlon Team Relay (Relay)